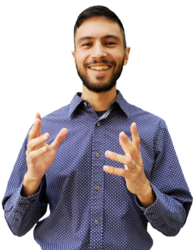 Dave Wolovsky

New York, New York
Career Coach, Leadership Coach, Executive Coach
MS in Neuroscience and Education, Certificate in the psychology of optimal functioning (Positive Psychology)
You should feel valued at work! Let's elevate your compensation and get you the recognition you deserve.
About Me
Life is too short to be unappreciated at work.
To elevate your compensation, you just have to do one thing.
Learn the science of strategic conversations. With my guidance, you can become a master at influence and negotiation. You can use these skills at work to get the recognition and paycheck you deserve.
If you're thinking of asking for a raise or promotion, or searching for a better job, text me for a free consultation to learn how to get there faster.
p.s. sometimes people want to know about a coach's credentials. My training is mixed. MS in Neuroscience and Education, Certificate in the psychology of optimal functioning (AKA Positive Psychology), and training in Imago relationship therapy (for couples). Not that you should trust anyone's credentials. Just trust your gut.
Reviews
7 reviews (5.0)
I started working with Dave because I heard about some of his content through my best friend and thought I absolutely needed more of that in my life. I knew I was very uncomfortable with the idea of negotiation. Some of his teachings, that I heard about through my friend, felt insightful and relatively easy to understand and practice. They gave me the vision that perhaps, with his help, I could get more of what I wanted. Dave did help me negotiate a higher salary offer when I would've otherwise taken exactly what was offered to me. I have come to feel calm and casual about negotiating job offers with everything that I learned from him. I've also grown to feel comfortable negotiating ad-hoc consulting work - which is far less defined and structured than traditional work and therefore requires me to be far more engaged with the process of defining the work, managing expectations, and determining a compensation structure. I used to think it would be another decade before I could handle situations like that. That's the least of it. I could write a long essay about how much my professional mindset and habits have changed, and how much that has impacted my overall well being, since I started working with Dave. Our work together started with job interviews and negotiations, but Dave's greatest impact was on my actual job performance and the effects that my work had on my overall mental health. I've struggled with perfectionism, "impostor syndrome", procrastination/shame cycles my whole professional life. I've relied on going above and beyond, on generating feelings of great gratitude and amazement from my colleagues, clients, and supervisors as my source of confidence and security in my professional life. I've tried to do everything and be everything. And since I can't be amazing all day every day, I've procrastinated and I've hidden when I didn't feel that I could meet that standard. Now I have such ease in my work life. I no longer try to meet such high standards because - I learned how to communicate and listen to understand what really matters to others. - I learned how to be vulnerable and authentic about my abilities and challenges in a way that helps people trust me more, not less. - I've learned to manage the internal emotional dynamics that used to pull me into a very self-centered and insecure perspective and used to distract me from paying attention to others' needs. My strengthened ability to manage my own internal emotional dynamics gives me the power to understand those dynamics within the individuals that I work with - my colleagues, supervisors, and clients - and I can communicate in such a way that I am able to understand their underlying needs and anxieties and help them in a much more impactful way. So not only am I helping people through the actual work getting done, but I am also making their lives easier and more pleasant because they don't have to work as hard to be understood.

Ashlee
Dave is a great coach. He helped me finally get the raise I deserved at my job. If you put what he says into practice it will pay off. Highly recommend.

Anjali Patel
Working with Dave was life changing for me. He is far and away the best coach I've worked with. He supported me in making a big career change to a new job that both paid more and was a better fit with my values. He was very available whenever something came up I needed to discuss. And the skills I learned from him around negotiation and communication have been extremely valuable and have translated into many other areas of life. Highly recommended!

Aaron Davis
If I could give Dave 10 stars, I would. He is an absolutely amazing coach. I was initially drawn to him from his background in neuroscience and education, and already during our initial consultation, I understood that his approach would be one that would resonate with me. If you're looking for a coach who is intelligent, attentive, receptive to your needs and learning style, and who will become a true asset to you and your journey of growth, Dave is the one. Over the course of my 6 months with Dave, I have seen strides in my ability to negotiate, interview more strongly, and show up more authentically in all interpersonal relationships. My time working with Dave so far has exceeded my expectations. He truly cares about his clients, and it shows in every communication we have. If you're already considering working with him, I say take the plunge. You won't regret it!

Mya M.
Working with David has helped me in multiple ways. When I was faced with an overwhelming number of tasks and obstacles in the attainment of my goals his coaching helped me to move forward. David was great at helping me to stay calm and focused in the present moment, assess all of the tasks I had before me, prioritize my goals, and come up with a strategy. Most importantly he helped me to uncover my own personal fears that were blocking me. Hes compassionate, observant, and intelligent with a powerful set of tools at his command. I felt truly understood and supported the entire time. I would not hesitate to recommend David to anyone who is interested in advancing in their career or achieving any kind of goal in life.

Eric C.
Ashlee Yilmaz
Dave is a very thoughtful coach. He has a good understanding of research and various strategies and frameworks that are helpful, but he always takes the time to make sure what he's suggesting is applicable to the person and their context.

Erin M.