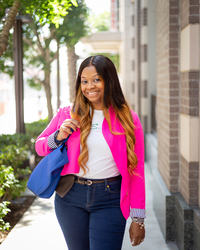 Dayna Bailey

Henderson, Nevada
Life Coach, Career Coach, Spirituality Coach
IACC Life Coach, Master NLP Coach
I coach female entrepreneurs and corporate leaders. I help my clients grow in their careers while finding a health balance between work, relationships and self.
About Me
Imagine when part of you wants something so desperately, and then another part of you wants something else just as much. One person can't go in two directions, right?
So have you ever wanted something so bad, and then another part of you wants something else just as bad? Or are you a mom who is conflicted because you tried to climb the corporate ladder and be there for your kid?
Growing up in Detroit, MI, I lived a stereotypical hood life full of affirmations of lack and disadvantage. After becoming pregnant at 19 years old, I was told all the reason why life would be hard and she would always be three steps behind. There was no way that an inner city, black, single mother could get get ahead. Many thought I was doomed to a life of welfare and subsidies. I, however, had dreams of changing the world one person at a time.
Not long after having my first baby girl, I was given an article written by a Human Resources Manager who retired with a box of thank you cards. It was then that I decided that helping people was my joy and my ticket to retiring with my own "box of thank you cards." I am passionate about growing people's capacity in all areas of life and helping business owners grow their business.
Wouldn't you like to help bring the things you want together, so you can have everything?
A lot of times, we just go through life accepting absolutes. And, if you can shift it. That means that you can create long-lasting results.
As a coach I focus on three areas of life: money, relationships & spirituality. I believe that everyone deserves to have love, honesty and security in these areas and I work with them to achieve this.
Reviews
Dayna doesn't have any reviews yet.