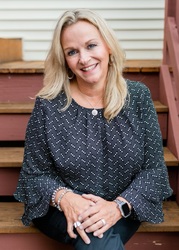 Deanna Marie Coaching

Clifton Park Center, New York
Relationship Coach, Family Coach, Life Coach
BA, MBA, Certified Life Coach
I help spouses+partners in alcoholic relationships.I help them clarify what they want from this relationship and create a future life they truly desire for themselves.I was married+20 yrs to alcoholic
About Me
Hi, my name is Deanna. I was married to a kind, funny, generous man who was a great father. We had two amazing boys (still do), a beautiful home, a successful business, rental properties and a vacation home.
We succeeded in building the American Dream. But it was not all picture perfect. My ex struggled with his drinking for years. He worked so hard for all that we achieved but his addiction was always quietly looming in the background.
It all started innocently enough, we met in our 20's and socialized like most other people do during that time. We looked forward to the weekends and had perhaps a few too many cocktails on a Friday night. Then as time went by and we had kids I realized something wasn't right. He just couldn't stop drinking after a few drinks. It seemed easy enough for me. I could stop after a few drinks, why couldn't he?
This realization brought me to therapy, Al-Anon, AA and group counseling. I was looking for outward answers on how I could fix this, fix him, so everything could get better.
What I didn't know then, was that I had the ability to change my life. I just couldn't see it then or maybe I wasn't ready. I was so desperate to hang on to my American dream and my "perfect" family, that I lost sight of who I was, what I wanted out of life and any other dreams for the future. I became so co-dependent and tried to control my partner and everything around us out of fear and desperation.
We eventually separated, but after a while, I realized how much I had lost. I had lost time, my self-worth, my self-esteem, I didn't know how to love me and I certainly didn't think anyone else would love me either. I had allowed years of erratic behavior to beat me down and I allowed it.
It took a while but today I know that I am 100% lovable, worthy and can create the life that I want on my terms. Don't let years go by hoping things will change. You can change your life today. YOU CAN HAVE AND DESERVE AN INCREDIBLE LIFE. I can show you how.
Reviews
3 reviews (5.0)
Sharing and talking out your struggles with someone who's been there is refreshing and can provide clarity on what steps we need to take. I went to several counselors, AA and Al-Anon; but Deanna was that person who listened with non-judgmental understanding and made me see for myself what steps I needed to gain peace in my life. There are no words for the serenity that I've been able to find in my life thanks to Deanna who's been there, done that……..

Karen B.
I didn't know what to expect when I signed up to coach with Deanna. I've been married for almost 30 years to a man who is an alcoholic and had treated me with severe emotional neglect and abuse the entire marriage and even through my battle with breast cancer, and yet I still couldn't make a decision about leaving him and didn't even know where to start. Deanna helped me to sort through all the mixed feelings; my fear, sorrow, confusion, pain and anger, and helped me come to a decision that I feel really good about. I always felt like she had my back, no matter what I told her or what decisions I made. She walked me through creating personal boundaries where I didn't have any before and begin to speak up for myself, authentically and powerfully. My life is forever changed for the better having worked with Deanna! If you are looking for someone to help you make a decision you love about your relationship, I highly recommend you hire Deanna!

Melanie M.
Deanna is an amazing Coach, she is caring, compassionate and creates a safe space to grow. Deanna gave me actions steps that were realistic and extremely doable. If I felt discouraged she gently guided me to where I needed to be. I HIGHLY recommend working with Deanna, she is truly an incredible (and knowledgeable) coach. Thank you!

Dawna K.