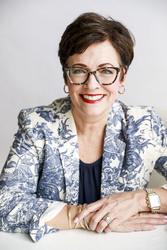 Debbie Shadid

Oklahoma City, Oklahoma
Business Coach, Entrepreneurship Coach, Life Coach
23 years in business.
I help female coaches grow their businesses. I'll tell you what to do and then show you step by step how to gain more clients. I have a simple process to bring in clients without paid ads.
About Me
I'm Debbie Shadid,
I'm a Business and Life Coach for female Life Coaches who want to grow their coaching business. I've made business simple. I tell you what to do, explain why you want it that way, and then show you how to do it. You won't be out there trying to figure it out - I'll work with you side by side.
You're passionate about helping people, but you don't know how to get paid clients; that's where I come in.
I'll teach you how to use the technology you need, show you how to market your business, and help you connect with your ideal client.
I've been profitable in my business for my entire career (20+ years) and can show you how to do the same thing.
You don't need a complicated business plan, and you don't need to spend money on paid ads. When you know what to do and have someone to help you step by step, you will grow your business.
Here's my biggest piece of advice-
Don't wait to get help. The frustration, overwhelm, and worry, is not worth the delay. You can make more money in your business starting today.
Reviews
Debbie doesn't have any reviews yet.