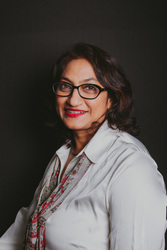 Debjani Ghosh

Mumbai, Maharashtra
Life Coach, Relationship Coach, Spirituality Coach
MBA, Author, Certified Hypnotherapist( CHII), Graphologist, Akashic. Lama Fera & Shamanic Practioner,
I help professionals & entrepreneurs over 25 to discover their Hidden Secrets so that they can EMPOWER and Transform their lives without giving up on their Individuality and finding their TRUTH.
About Me
I'm Debjani Ghosh, a Personal Growth Coach & Akashic Mentor providing spiritual seekers with powerful tools to create a life aligned with their Soul's Blueprint.
From being absolved in corporate affairs to self-introspection, my journey has been filled with awareness, acceptance, and constructive action. The entire mission for the same was to realize who I am; which helped me to knock down my self-inflicted restrictions and blocks.
I believe that now, more than ever, it is vital for individuals to uphold core values, embrace uniqueness and stand in their integrity.
There really is nothing to look at than our "Own-Self" as our ROLEMODEL and Teacher.
My work as your COACH begins with making your aware of your "HIDDEN" potentials ( even though you may have sabotaged yourself most of your life). But with our continuous association I give you the tools to maneuver from your comfort zone to a new playing field of limitless possibilities.
You can take the FIRST ESSENTIAL STEP to make a change in your life by booking a call with me. or know me better by visiting-
https://www.soul-quest.in/
My book Karma to Kriya encapsulates my experience of giving over 500 Akashic readings to clients. It provides a practical, step-by-step guide on your life journey, where you can avoid creating Karma by simply transforming it to Kriya. With Akashic mentoring ( a part of my Life Mentoring Program) life overall gets easy, finances multiply, health gets better, relationships become a charm.

I am committed to helping as many individuals as possible who may be feeling disconnected, unfulfilled, or simply stuck in life, create an exciting new chapter filled with purposeful work, meaningful relationships, and connections with a like-minded community.
If you feel discontent with your vision and mission, then you owe it to yourself to take action today. A WARNING .... be really sure that you want to TRANSFORM to your DIVINE Self, as there would be no stopping 2 UR EVOLUTION.
Reviews
14 reviews (4.93)
Honestly speaking I was really very confused with myself, my goals my career in other words I wasnt able to understand what I want and what I dont want in life. Things were getting messed up day by day. Sometimes it used to create lot of anxieties. I was in desperate need for someone to guide me in the right track or help me to understand myself. I came across Soul-quest website and got in touch with Debjani Ghosh . She has completely changed my whole perspective towards life in a very positive way. She helped me to understand how our present life or whatever Karma that we go through is actually driven by our own past souls. So whatever happened to me or whatever circumstances that Im going through or will go through is happening for a reason. So it helped me to understand myself better and also helped me to stay calm and focused in every situation. The very manner in which she actually counselled me by taking time, making me understand every bit of the session step by step, just inputting all my past experiences as well as my excellency, clearing out all my queries, is really very much commendable. She held infront of me a vivid picture of all the changes that I need to bring in my life. Im really very glad to tell everyone that it was only for her guidance, today Im confident and able to take the very perfect decisions for myself. Tons of appreciation as well as tons of thankfulness to my most outstanding guide, my mentor, my counsellor, Debjani Ghosh under whose guidance actually I came over all my very confusions. I will highly recommend her guidance to anyone who wants a clarity in life and steer their life to positivity and bliss.

Ankan - Artist & Photographer
I reached out to Debjani after going through a particularly disturbing phase in my personal life. When I started working with her, my aim was to just get over that phase. However, the amazing guide that she is, Debjani not only helped me come through my difficult period in the healthiest way possible, but also her guidance has helped me tons in furthering my career in the most fruitful manner and improve relationships with my family, friends and peers. Most of all, she has helped me realise who I am and how to love, honour and protect myself, which has been the most empowering and enriching part of my journey with her. It's been more than one year that Debjani has been coaching me and this year has seen me change my life patterns completely, for the better! Today, all thanks to Debjani, I can make better choices, communicate better and deal with situations in the best way possible. Debjani is truly a wonderful teacher who is dedicated to bringing out the best in her clients!

Tanvi - Corporate Affairs
Debjani, my journey with you has been incredible! The awareness i have is tremendous and the insights i keep having are subtle and profound (all incredible). I had so much anger that you helped me to release through teachings, guidance, and clearing sessions. The result is that my anger towards certain people has nearly disappeared and I am able to have normal interactions with them that don't trigger me anymore. I loved and followed all your suggestions for daily living and instructions for practices and exercises specific to me to the t. I never missed a single day and I am still doing them all. Thank you for being my accountability partner. The dreams and their content have shifted as well since I had my clearing sessions. I wake up feeling light. I have also begun to feel calm and present. Literally no thought of past or future, just here and now. And if the thoughts do come, they don't bother me to the degree they used to. I believe I am looked after by the divine power. All is well and always will be. There are more and more moments where I feel a gush of warmth through my heart. I had rarely felt that in the past. I have been able to forgive those who hurt me to a very large degree. I also feel humble enough to accept my role in creating certain painful circumstances for myself and others and forgive myself. The biggest shift for me is not being able to relate to certain sad/toxic people and events anymore. It's as if they are simply not a part of my reality now. I am not in that frequency any longer. A lot of things that were difficult or felt stuck seem to b flowing easily to me. Debjani, you have been so understanding. I never felt judged during any of our interactions. It was all acceptance, acceptance, acceptance. This created such a safe environment to open up to you and be heard and seen and understood. That in itself was a big thing. You were patient even when I faltered. You were graceful and helped me get up and get back on track. Sessions with you have been thorough and all my questions have been answered in detail. Also, thank you for being available whenever I needed guidance. I am so glad I trusted my instincts to work with you. Deeply thankful to you forever for helpig me change the trajectory of my life.

Nivedita
Debjani Ghosh from Soul-Quest, has the right knowledge and expertise in what she does. I can recommend here, and have done it as well. Thanks again

Raman L
Our Business was just not moving in the right direction in the past 5 years, once Debjani began her soul readings for our Directors as well as the Business, we got great insight and clarity of the blocks affecting us and as soon as we did the clearances , we cant tell you how amazing the results have been. Our sales has been growing weekly , we are attracting investors, oppurtunities which were never opening up for us. Every week in our sessions with Debjani we have to extend the readings to our keep employees and find a huge shift in their motivation and work output. Overall giving our business the right thrust. Her support is amazing, she speaks to the point and always keeps us on track. We have never experienced such level of personal attention to detail and accuracy in any coaching partnerships earlier. She brings in the change and doesn't just talk about it. We are extremely satisfied and i'd love to recommend her to others ( except out competitors, of course). As an Entrepreneur, having Debjani as our Personal Growth Coach at multiple levels , is the best thing that's happen to us and my organization. Derek ( Business Owner - California USA)

Derrick
Hello everyone. My name is Mohit; I am from Jaipur, India. My life was running fine but I was struggling with a thought running in my mind for the last so many years. Tried so many modalities to know more about this but was not able to find any satisfactory answer. While searching for the answer coincidentally I came to know more about akashic records and while searching more about Akashic records I landed up on the Debjani Ghosh website soul-quest. in. I just booked a free call and had a discussion with Debjani Ghosh and the hand holding attracted me. Finally I paid and booked a session. The theory is very different and I would say very difficult to understand. But Debjani Ghosh extended her best support to make it easier for me to understand The very first benefit I received during the Debjani session was that I had a vertigo problem for several years and I have to take around 3-5 medicines every day. Just after taking the first session, Now I am free from medicine and as such, there are no symptoms of vertigo & anxiety. The second benefit was, The thought was running in my mind and just like dancing on my head now gets removed, Now I can focus on my work much better than before and can yield much better results. The next achievement was. My son was very reluctant about his studies or I would say, I was not paying any attention to him, but after having debanji sessions, now things are improving and my son is paying more attention to his studies. I hope the new and more favorable benefits would come into my life in the near future To the best of my experience, Debjani has good knowledge of Reading Akashic records and anyone can take advantage taking her experience. The journey of 7 weeks is having a lot of learning and understanding of the new theory and I hope Debjani would have more success in the future I wish her all the best Thanks . Mohit Kalra

Mohit Kalra
Working with Debjani has been a deeply transformational experience for me. I feel I understand myself in a very deep way. She has also helped me overcome many limiting patterns, making life so much more joyful. She is very knowledgeable, patient and detailed in her work. She lovingly holds space while gently nudging you towards greater awareness and growth. She is really there for you cheering you on your wins and supporting you through your challenges. I would highly recommend her to anyone who wants to connect with themselves at the soul level and steer their life towards clarity, joy and fulfillment.

Divya Jain
I interacted with Debjani ma'am for the communication skills training primarily for public speaking. The coaching methodology followed by her is very impressive and detailed, she has helped me identify the minutest of the errors which were holding back effectiveness of my speaking skills. As a corporate professional sharing the idea across to the other person/ Superior is more important than the idea itself. Debjani Ma'am has shared a plethora of techniques using which I am able to make my communication engaging without being verbose. The key take away for me were - Effective identification of errors and biases - Finding the reason behind the error and biases - implementing the solution to eliminate them. The best part about getting coached by Debjani ma'am is that no mistake is considered silly and every problem is addressed with equal importance. This structured solution based approach has shown me visible results even in my personal life thanks to Debjani Ma'am.

Jayesh
Wonderful experiencecould manifest many things since thenshe made me feel the Divine feminine in me..Im blessed

Suman
I cant express in a few words what my sessions with Debjani have done to my life. Simply put she is an invisible force to my new life. She could see through me and my external identity and correct me and connect me back to my source. Which was an amazing experience.y relationships have totally shifted and realigned , its unbelievable to so many people. I used to be negative and suicidal but with consistent work Debjani has given me tools to help myself independently and move further in my life. I have saved lifetimes of rebirth within a few sessions. As I shifted within my space , Debjani began guiding my business as well and the amazing transitions that have begun to happen. Its amazing! Its Blissful! She never asked me to reveal anything and quietly smiled whenever I had some good news. She is like my secret Guru my spiritual guide and yet so Human. Im indeed very lucky to have found a coach for life. I would recommend all in this platform if you are looking for total transformation and are truly serious , dont miss out on getting guidance from this amazing person.

Ayushmann
"So I'm a 40 year old Doctor, life has been good, with regular ups and downs, however I felt that i was missing out on something in my life, like being settled in my comforts and not stepping up to my highest and fullest potential. I was referred to Debjani and i went through her website, had an informal chat with her and found that she barely spoke much, however she mentioned that there were 2 best days of being alive - 1st day is when we are born and 2nd best day is when you realize WHY? I was triggered and decided to have a formal intervention to my inner self with her association. She has been coaching me since a year now and , she doesn't know much about me like the size of my home or my wardrobe and she doesn't probe about anything , but she KNOWS everything about my soul, how my mind works, how my body reacts as well as how i respond. She knew this from day 1 , and then every session she has worked on me coaching me to become the truer version of myself ... some things that i was stopping myself from reaching my fullest potential. I take actions more focused and aware of what i need changed. and although its me who is doing the work .... she guides me exactly to the potency of how much and to what extent i need to focus on something. So when i do the new actions, they seem tough, however her reminders keep putting me back on track. I was always doing well in my work front, but in this year I have found abundance within my work sphere, ive been promoted, recognized, acknowledged, published... ive gotten richer. My relationships have shifted a 180 degree where i have more freedom, independence , real essence of love. Im experiencing all of this, no exaggerations. I also have no more health issues, and i used to crib .... period pains, migraines, bone trouble, weight issues.... all have gone. I didnt take any magic pill, however i took my sessions with Debjani , who in each session made me aware of who i truly was supposed to be and made me DIG DEEP within myself. I am addicted to this evolved way of living, my transformation is clearly visible to all... yet my coach is my personal space and my own coach, who never breaks our confidentiality and my trust and keeps working on me to do better. No ones perfect but i found my perfect coach in Debjani."

Dr. XXXXXX
An eye opening experience to realize the focused reasons why the negativity is surrounding you. Mind and body relationship explained beautifully.

Ipsita
Reviewing my Akashic records with Debjani was a calming, reassuring & an inspiring experience - an eye opener. I suffer a lot of mental noise & she helped me to cut through that & find the courage to see some of the aspects of myself, with which I tend to be uncomfortable, in a much more positive light. Post our session, I've lost the fear of loneliness since. I do feel detached & protected in a good, healthy way & not carrying unnecessary baggage & grief. Her prescriptive advice that is given to work through blockages, by way of the affirmations are my go-to even today. I do regularly visit my akashic recording & each time, I derive a different approach /view which helps me move forward fearlessly, I have become more positive & conscious of my internal shift. It has been life changing for me & I remain humbled & grateful. I highly recommend her for anyone who feels lost. Thanks a ton, Debjani.

Runa Shamita
Our Business was just not moving in the right direction in the past 5 years, once Debjani began her soul readings for our Directors as well as the Business, we got great insight and clarity of the blocks affecting us and as soon as we did the clearances , we cant tell you how amazing the results have been. Our sales has been growing weekly , we are attracting investors, oppurtunities which were never opening up for us. Every week in our sessions with Debjani we have to extend the readings to our keep employees and find a huge shift in their motivation and work output. Overall giving our business the right thrust. Her support is amazing, she speaks to the point and always keeps us on track. We have never experienced such level of personal attention to detail and accuracy in any coaching partnerships earlier. She brings in the change and doesn't just talk about it. We are extremely satisfied and i'd love to recommend her to others ( except out competitors, of course). As an Entrepreneur, having Debjani as our Personal Growth Coach at multiple levels , is the best thing that's happen to us and my organization.

Dereck Almeida