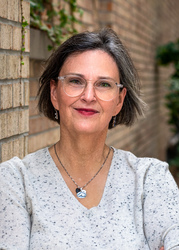 Deb Mounsey

St. Paul, Minnesota
Executive Coach, Career Coach, Life Coach
Executive Coaching Certificate, NBC-HWC
Want to enhance your career, find a new one, or leave a legacy? Looking to enhance your Health and Well-Being, find your balance in life? Looking to create and discover the life of your dreams?
About Me
You….
• feel like you're in a dead end job and want to somehow advance your career, not keep the old, same old.
•need to assess your career opportunities because you recently lost your job.
•are approaching retirement and have turned your attention toward your legacy. What might your legacy be?
OR
feel lost in life, don't know who you are anymore, cant see a path to finding yourself?
want to life a balance life, but it seems impossible with all of life's demands?
Whether those sound familiar or you have a story of your own, I can help!
Let me introduce myself...I'm Deb Mounsey. I'm just a Minnesota girl that grew up to believe that people are curious, resilient, and no matter the obstacle, want to somehow continue to change and grow so that the time we all spend on this earth is satisfying and enjoyable.
I hold a BS in Business Administration, an MA in HR and Change Leadership and a Certificate in Executive Coaching. I am credentialed with the International Coaching Federation (ICF) and a Board Certified Health and Wellness Coach (NBC-HWC). I am the author of Finding Yourself After Divorce: Lessons Learned from Someone Who's Done It.
Besides my credentials and experience, I also have soft skills that are based in my insight into situations and behaviors. I'm able to connect and relate to people, keep people on task and focused, offer a comfortable, supportive and safe feeling to allow authenticity, truth and growth. At heart I am a learner, have a sense of wonder and curiosity, and I bring a balance of linear thinking with a gratitude for beauty and mindfulness to the coaching relationship
Reviews
2 reviews (2 verified) (5.0)
Deb was very informative, easy to have a conversation with and not pushy which puts you at ease to think through various options before making decisions.

Anthonia Paul
Kind, patient, experienced, thoughtful... I don't have enough wonderful things to say about Deb! In just a few months she pulled me from my confused spiral and helped me make a plan. She worked with me to set goals and priorities, and to pinpoint the things about my situation that were making me unhappy. From our first call we clicked in a way I didn't with other coaches I spoke to, and I know she's really on my team. I gained clarity on what I want, and I have the tools I need to forge a path in that direction. Thank you Deb!

Emma