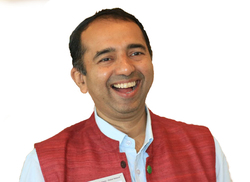 Deepak Varma

Hyderabad, Andhra Pradesh
Life Coach, Relationship Coach, Spirituality Coach
MBA, Past Life Regression Coach, Subconscious Healer, Heartfulness Certified Coach, Inner Child Counselor
HEALIFY : Using simple proven techniques, I help my clients delve deep into their subconscious to root out hidden addictions, fears or phobias, chronic trauma /relationships and come out joyous.
About Me
I coach stressed out people with chronic fears, phobias, ADHD, relationships or trauma. Are you feeling stuck in life? Do you feel a recurring pattern in your life? Are there some phobias which are obstructing your progress? Are there any relationships you want to heal?
It doesn't have to be that way. You can have it all - a freer mind and a more joyful heart - true success at your fingertips. All you need to is to follow some simple steps. This is where my "Healify" coaching comes in. A Wellness Coaching with a unique difference and everlasting effect since this therapy roots out from within. I specialise in Healing through the Subconscious. The conscious minds holds 40000 thoughts in a day, while the subconscious 40 million. No wonder people are unable to change consciously. All change has to begin from within. Do go through some of my client reviews. My clients constantly tell me that they experience a rejuvenation and freedom after the therapy. After going through my program, my clients feel lighter in the head and heart, thereby getting a clarity to discern between the important and the unimportant; gaining the strength and vision to go towards their goals.
I am a certified trainer in Past Life Regression, Inner Child and Subconscious healing from Life University. A certified Heartfulness Trainer from the Heartfulness Institute, USA. I have worked in Fortune 500 companies for 18 years and have a lovely family with 2 teenagers, so I can relate easily to everyone and understand them.
Reviews
10 reviews (1 verified) (4.6)
He is a very nice coach...he helps me a lot..With his help,I can overcome my difficulties...

Kabita Phurailatpan
Deepak is a great relationship coach,his calm n confident voice soothed me during my time of crisis,his relaxation technique were splendid and pulled me out to become normal again.. I recommend all of u to go through his program Healify...

Kabita
I had a phobia of cats ailurophobia from my childhood. Unfortinately cats are in abundance where I live and it was a traumatic experience for me each day. Even if I saw a photo of a cat I would get into a frenzy. I underwent a series of just 4 sessions with Deepak. It was a combination of visualisation and inner child healing. The beauty of Deepak coaching lies in his flexibility to adapt to the situation. He sensed the issues and tackled it with a sensitive approach. It's been almost 5 months post the coaching. Cats cross my path each day with no effect on me whatsoever. I have begun to like them. The entire impression and phobia is wiped out and I feel clean like a fresh slate. If you have any phobias or addictions.... Connect to Deepak and go through his coaching. He will pull you out of it in a jiffy.

Saumya S; Professor
Deepak has the capacity to transport his clients to a relaxed state where deep inner thoughts can be accessed. His kind, gentle manner enables you to feel totally safe and protected. Consequently, you feel the support necessary to explore issues. This is a true gift.

Kristi Alcouffe
I was going through the most challenging phase of my life, contemplating suicide in Feb18. It was in Mar18 I came to know that Deepak Verma was a regression therapist. I was totally broken with no hopes to survive, thought should give myself this last chance. There were these emotions of fear, betrayal, insult and many., that were deep rooted in my conscious, sub-conscious and in me as a whole. I had to get all of these out of my system. I jumped into these sessions with Deepak. I was totally unaware as to what would unfold in front of me. I was able to see myself. I took these births and each of them had a lesson to teach me. Deepak helped me reveal what I had been doing around every time. By the time I took my third session, I had forgotten that I wanted to committed suicide. I had started telling myself this is my chance to live. I started looking forward for my sessions. I evolved from session to session. Each session is too personal for me to reveal. I however would like to tell that I was able to understand the reason for fear, betrayal, insult, humiliation., post my sessions. Now when I sense fear, I know how to tackle it. Deepak has made me understand its origin. People around could see the change in me. The faith with which Deepak helped me open up to myself had brought this change in me. He uncovered the unseen veils that made me discover the real me. Each session with Deepak made me understand who I was. My strength and confidence grew from session to session. I was in sync with my sessions and there came a stage where both me and Deepak realized that now I can be on my own. The interesting part was post completion of the sessions. I was able to tell myself; I know I had been there; it is okay, I can take this. Every day was a challenge. Deepak had taught me to ignore them with my inner silence. He worked my way, making me smile and healing me to shred all the unwanted emotions. If you really care for yourself, then give yourself a chance for a session with Deepak varma. He surely works your way. Kind Regards, Dakshayini

Dakshayini
My experience with Deepak was amazing! He helped me work through some childhood traumas and creating love for myself I can fall back on his tools on my own and feel strong within myself, moving me faster toward my goals If you are looking for a breakthrough you deserve to have a session or more with Deepak

Lois Koffi
Deepak coaching program is most unique and exquisite. I went through a series of 12 sessions with him in 2018, and each session found me at a different dimension altogether. His vast experience in Life coaching coupled with the various tailor-made techniques makes it a very different program. Don't think twice. Simply sign up for the program and await your new world .. Haritha, Chief Technical Officer at NFPS, India

Haritha G Krishnan
Healing coaching session was a life changing experience for me. When I came to Deepak, I had lots of confusions in both personal and professional life. As we proceeded with the sessions, things started becoming clearer, unraveling my past helped me to come in terms with my current life situation. Various aspects of my childhood were touched. Each session had a very positive impact on my personality. Now I feel more positive, bright and lively. Deepak had been extremely patient throughout the coaching session. He is a great coach and I had a wonderful experience during these healing coaching session. I would highly recommend healing sessions with Deepak.

Surya S Kamal
My name is Raga. Hi. I was looking for a healer to help me in regression of past and take future insights too. Soon I met Mr.Deepak. Apprehensive about a session with him, I told him that I don't know you and without having faith in the process, I'm sure healing would bring forth probably only a part of the desired outcome. Deepak said over phone..don't worry! Your fears are genuine. Trust will develop. Call me a couple of times before you wish to start the session so you can get to know me and I can get to know your background for the session. I did exactly the same and the night before I'd decided to visit him..I felt the work has already started. I felt intense cleansing of my system. Next day when I asked him about the cleansing..he answered yes with a smile. I understood Deepak integrates and works at different levels. Next day, I was in full confidence of him and faith in the process to see what is unfolding in front of me. I was receptive & cooperative. The session was deep. I was seeking out the future prospects regarding my marriage. In the middle of the session, Deepak helped me see the image of the person I would be marrying and the place to which he belongs to. In the same week, I came in contact with a person having same details. What a productive session and outcome! I'm glad I met Deepak whose great faith & fervour led me to hope & happiness!

A. Raga
I have had a brain stroke in 2015 and was also coping with a few phobias. I went through multiple sessions with Deepak, who guided me to a more happier and healthier mindset. He has deep experience in the field of healing. His art of listening and flexibility in approach depending on the problem are his key differentiators. If you are having any deep rooted fears or chronic relationships or chronic diseases, look no further... Deepak is the person for you.

Shikha
The Smart Way To Find A Coach

1 Describe Your Goals

2 Get Matched

3 Free Consultations
Find My Ideal Coach Now