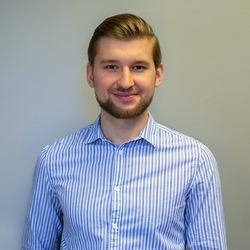 Dennis Guyvan

Chicago, Illinois
Performance Coach, Life Coach
BS, Certified Professional Co-Active Coach
I help unfulfilled young men break through procrastination, increase confidence, and get unstuck to achieve a productive, meaningful, and fulfilling life.
About Me
My name is Dennis. I am a performance coach. I have been hungry for change for as long as I remember.
Starting from scratch, all alone on a new continent at the age of eighteen, living in four different cities, and facing all the challenges along on the way helped make me a high performer. I understand how it is to want a lot from your life, and what it takes to make this happen. I love helping people to redirect their life force to gain the things that they are really longing for, those events and assets that help complete their lives.
So, where are you on the life scale today?
- Do you feel like you are doing a lot, yet not feeling fulfilled?
- Do you feel like you do not belong where you are in life?
- Do you think there is something wrong with you, or other people around you?
- Do you feel like you are stuck in life – just treading water?
- Are you beating yourself up for not achieving something you planned to?
​My clients often ask themselves these same questions.
Maybe you have accomplished something, but still feel empty because you think you didn't achieve enough yet.
Perhaps you think you cannot achieve your dream or enjoy the process of attaining your vision.
I believe that by working together and creating a crystal-clear vision that is based on your true values, as well as by working through obstacles along the way, will get you where you want.
I can help you to:
1) Determine your core values; recognize and understand the things that are truly important for you.
2) Create clarity on where you want to be three years from now.
3) Build a robust action plan to get you there.
4)Create awareness around your strong points, and recognition of your victories
5)Create an understanding of your blind spots and your limiting beliefs and find ways to work through them.
Cross the river of change and get where you want to be;
start your business, change your career, move to a different city, build meaningful relationships. SCHEDULE YOUR FREE CONSULT NOW
Reviews
I did know what to expect from coaching since I was new to it. Dennis walked me through the process and gave me a perfect understanding of what it is and what to expect. Coaching with Dennis helped me to dig deep down in me and reveal who I truly am and what I want. I'm beyond happy as I was able to find answers to my questions and concerns. I'm so thankful to Dennis for guiding me through this journey. He helped me to believe in myself and trust my inner intuition. Dennis is very knowledgeable, smart and compassionate life coach! I'm beyond happy I found him!

Katrina Chin