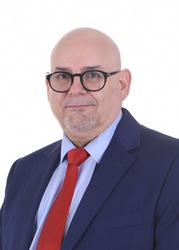 Dr Larry Davies

Dubai, Dubai
Executive Coach, Leadership Coach, Entrepreneurship Coach
EdD - Ed. Leadership, SFHEA (Senior Fellow, Higher Ed. Academy - now Advance HE. Verified evaluator/draft coach for Fellowship candidates - HEA)
I specialize in helping individuals navigate transition. In collaboration, we will identify and gently prune away the habits and beliefs that no longer serve you. Your journey starts now! Contact me!
Details

Dubai, Dubai

+971553628484

Send Message
Visit Website
Hourly Rate: $500 to $1,000 US Dollars
Gender: Male
Training: Coach Transformation Academy
About Me
As an accomplished senior administrator and coach, I possess the skills and experience necessary to excel in the demanding role of executive coaching. My track record of successfully managing complex challenges in various learning institutions, combined with my commitment to upholding the highest ethical and quality standards, sets me apart as an ideal candidate for this role.
With my deep understanding of current best practices in education and a collaborative attitude, I bring a results-driven approach to coaching that yields tangible outcomes. My experience working with people from diverse cultures and my substantial overseas experience give me a unique perspective on global business environments, making me well-equipped to support you to thrive in the fast-paced, competitive 21st Century landscape.
If you're looking for a dedicated and astute executive coach who can help you navigate complex challenges and achieve your goals, look no further than my expertise and experience.
Reviews
7 reviews (1 verified) (5.0)
Excellent coach, takes time to elaborate and engage easily, always follow up and provide you with solutions that ulter your needs Im still continuing

Hadi Hadi
I was struggling with which direction to take my career. I was not getting as many opportunities as I expected and consequently I lost some confidence. Dr Larry helped me refocus by patiently listening and questioning and then set about getting me to do some exercises in self-reflection. Each week we would build on the foundation and I started to regain confidence. I am now in a much better place. I recommend Dr Larry for his steady, patient approach and his clear thought process. I was able to re-evaluate myself and gain better direction."

Tony Cooper
It was great working with Dr Larry and was able to identify areas of improvement

Kashif Husein
Dr. Larry coached me as I worked through some complex design issues for an online course. He was a good listener as he helped me determine what my goals were for the course, which included how to organize the course content so that students and adjunct faculty could navigate through it in the most effective manner. He was easy to reach and gave me feedback throughout the project.

Dr. Ana Ciereszko
Larry's expertise and calm demeanor made the coaching process very enjoyable. I didn't know what to expect upon starting but he was very deliberate and on task without feeling robotic. I looked forward to our weekly meetings and would highly recommend Larry.

Gloria Rakowsky
Dr. Davies is great at coaching! He guided me to assessing my obligations and my decisions about how I wanted to spend my time to best achieve my career goals. I highly recommend working with Dr. Davies.

Debbie
I found my coaching with Dr Larry Davies, not only enjoyable but very informative and rewarding on a wide scale. He had a good knowledge of all subjects and knew how to apply his profession and personal advice well to what ever coaching road I chose that day. Dr Larry had a lot of personal qualities that i liked, which i think is very important in any coaching.

Michael Chestnutt