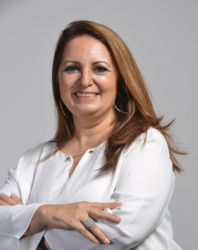 Dr Nebila Dhieb

Riyadh, Ar Riyad
Life Coach, Entrepreneurship Coach, Career Coach
BA, MA, PhD, Certified Proctor Gallagher Consultant
I help professionals multiply their results and create more freedom in their life by improving their mindset & professional skillset.
About Me
I coach ambitious female professionals to attain the freedom they desire and turn their annual goals into monthly goals!
Have you ever asked yourself why you cannot see the light at the end of the tunnel even though you are doing everything you can?
Have you ever wondered why your job is at risk and your side hustle is in a rut even though you are doing everything within your reach to grow it?
Have you ever wondered why your school is not where you want it to be? not making the expected growth?
Most of the time, it's not about how many things we make, but more about the mindset doing them.
Through a comprehensive and holistic approach of personal and professional corporate development, I can help you unleash your full potential,
build a success mindset and a suitable master plan for your career, so you can have a more attainable vision.
Still reading?
Then ask yourself these questions:
Are you tired of doing the same thing and getting the same results?
and WHY you don't have the time and financial freedom that you want?
You aren't moving fast enough in pursuing your passion and feeling stuck and overwhelmed?
You feel you are meant to be more, have more and give more?
Answered "Yes" to any of these?
Then keep reading
With a PhD in applied linguistics, certification as a success consultant and after many years in the lecture hall and in the, corporate workplace,
I understand the pain and the insecurity of living on a unique source of income.
I understand the confusion you feel at seeing other people develop and thrive, and you are hovering around the same place.
My coaching is born as a unique personal & professional development model, to help aspiring people like you turn their thinking into actionable results in their profession, income, lifestyle, productivity and profit.
If you are still reading, you may be asking yourself if this is right for you.
Then you, my friend, are not here by accident!
let's talk!
Reviews
8 reviews (7 verified) (5.0)
Good job, she deserve the PHD.

Raed
Nebila helped me know my priorities in professional and personal matters. Guided me to a better approach work and life. Has helped me understand what are the major pivots I need to make in my day-to-day life to yield optimum results.

Hussain E.
She's an amazing person.

Jasmin Hafiz
Expereience of interaction with Dr Nebila Dheib is so wonderful. She talk very very politely and listen more from me. she gave more time to me during our conversation. She try to clear my all doubt with proffessional ethics and human care. Thanks a lot, Madam.

Gangadhar Naik
Tarek
I love the program that I am taking. Dr. Nebila is always on time and good in following up. She is professional, helpful, and good teacher and monitor.

Abdulaziz
Abdulaziz
I had an amazing coaching experience with Dr. Nebila, she is a great listener, and I trust that she would make a great mentor for people in need of coaching and help guide them to where and who they want to be in life.

Hala maghrabi