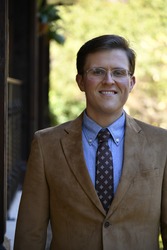 Patrick Parker

Houston, Texas
Leadership Coach, Life Coach, Career Coach
My ideal client is focused on achieving results/goals through inner reflection, inner shifts, personal transformation/growth, and skill acquisition/application to achieve goals.
About Me
Coaching is all about helping clients solve problems and capture opportunities, but many traditional work cultures and coaching methodologies focus on external goals and outcomes without developing inner leadership. This leads to burnout, overwhelm, turnover, and growth/performance limitations for the individual and organization.
I am an executive and life coach who utilizes the concepts of inner leadership with the premise that once people do inner work on themselves, unimaginable new external possibilities arise. This skills-based framework uses various tools to increase client capacity for mindfulness, interpersonal effectiveness, emotional mastery, and navigating uncertainty.
Trained by the Center for Executive Coaching, I am a Certified Executive Coach and Certified Master Facilitator and hold the Professional Certified Coach credential through the International Coach Federation. I also have extensive training in Mindfulness- Based Stress Reduction, the Gottman Relationship method, and am a Certified Mediator.
If traditional, externally-focused leadership development and coaching methods have not worked for you or your organization, contact me to see if inner leadership is the solution.
Reviews
8 reviews (1 verified) (5.0)
I was completely satisfied with his excellent abilities.

Brian Sellers
I have been working with Patrick for some time now and have found his approach to coaching is smooth and clear. He outlines his program with goals that are set around your own vision which I like. Parker is also highly educated which is important to me.

Derrick G.
Patrick is a wonderful coach! Patrick asked great questions which facilitated my goals to improve work relationships and be a better team member. Our work together empowered me to become more assertive. His support went beyond my expectations. I highly recommend him as a coach to others!

Shiv Kumar
Dr. Parker was the reason why I was able to balance out school work and my outside life. He always listened to everything I had to say and had great insight. School was a smooth sail knowing you can depend on an adult to listen and share your thoughts with. There are many students that believe that counseling isnt all that necessary, I was one of those students, always trying to juggle everything at once. Honestly, I truly hope everyone who goes to counseling receives the same kind of attention and help that Dr. Parker provided for me, I am eternally grateful for his kind personality and trust. I highly recommend Dr. Parker.

Julio Aguilar Lopez
Patrick's energy and creative insights have helped push me forward on some planning for business events. I appreciate his open style and holistic approach.

Melissa Haveman
Dr. Parker is a great coach and my conversations with him changed my life. He really cares about ones personal growth, he is knowledgeable, kind, enthusiastic and easy to talk to. I highly recommend him.

Gosia G.
Patrick is not only great coach to individuals. He is also an excellent coach to coaches. As a fellow executive coach, I have had the privilege to be coached by Patrick. He is personable, caring and have a genuine love for people and the art of coaching. I'm impressed by his work ethnics, his desire for education and his aspirations to be one of the best in the industry of coaching. I highly recommend Patrick as a coach as well has great person to be associated with. Curtis Lake Forest, CA

Curtis M
My experience was a positive one. I got alot of help thanks to Mr. Patrick. He cares for the people he meets and for the people he provides counseling to. I've never met a better person as Mr. Patrick. I definitely recommend Mr. Patrick to the people that struggle with life, emotions, life problems, etc.

Jahaziel Gutierrez