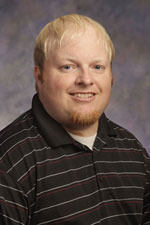 Dustin Van Sloten

Macomb, Illinois
Life Coach, Christian Coach, Leadership Coach
BS, MS, CPC, Training and Development Cert.
One of the things I most enjoy about coaching is that it isn't about fixing people. Instead, a coach functions as a partner and an advocate, helping you live out your own values and dreams for your life. You'll be the one setting the agenda for our relati
Details

Macomb, Illinois 61455
Hourly Rate: $40 US Dollars
Gender: Male
About Me
Dustin Van Sloten, CPC, is founder and president of Spark Starters Life Coaching and Leadership Development. Dustin's customized SPARK coaching and development system is versatile enough to help individuals, small businesses, and even large corporations make their goals and dreams attainable. Whether you are simply looking to make some personal changes or influence an entire company's organizational development, Spark Starters can meet you or your company's needs.
A Masters in Sports Management from Western Illinois University, a certificate in Training and Development from North Carolina State University and a Professional Life Coach certification from Fowler Wainwright International combined with 12 years of training and mentoring college students as an Intramural Sports and Special Events Director distinguish Dustin from many other coaches.
While serving as a Director of Intramural Sports at the University North Carolina at Chapel Hill Dustin developed a desire to reach out and make a difference in the lives of college students. Rather than being "just a boss" to more than 70 students, Dustin sought to actually touch the lives of each student worker he came in contact with. Although not in his job description, he began developing his own leadership system to equip his employees with life skills that they could not only use on the job in intramural sports, but also take with them into their professional positions upon graduation. After seeing the impact that good training and development had on his own student employees, Dustin began his quest to create Spark Starters.
Dustin's commitment to his clients is unlike many you will experience. Spark Starters was not an overnight whim that sounded good on paper. He poured six years of research, training, and practice into Spark Starters before ever launching it as a professional system to the public. Truly his desire is to see people improve themselves and reach their ultimate potential. This has always been his passion and he considers it an honor to come alongside others on this journey.
No coaching is complete without addressing the person as a whole, and this includes not only mental aspects but spiritual as well. Dustin's perspective comes from a Christian background that is based on love for others – not the exclusion of others based on a creed or set of laws. His hope is that his clients, if they so choose, will be able to deepen their spiritual relationship with God and see more clearly the spiritual path that He has set before them. This desire is at the core of his coaching passion and is evident in his mentoring system.
But who is Dustin at the end of the day when he isn't coaching? On any given day you will find this small town Iowa native watching the Chicago Cubs , or maybe you might see him taking a road trip to Iowa City to watch the Hawkeyes. There is also Labor Day weekend when he is agonizing over a fantasy football draft pick with his league of longtime friends from childhood. A normal Saturday will definitely include him relaxing with his two dogs in the living room and maybe a cat if the cat feels like it. You might even find him whipping up a new recipe after watching a few episodes of Diners, Drive Ins, and Dives. But most likely of all you will see him doing any or all of these activities with his wife and best friend Katie.
Reviews
5 reviews (5.0)
Dustin was eager to help me achieve my goals and realize my ultimate potential. He has the knack for listening and reiterating your thoughts back to you in a way that completely resonates. Dustin was able to weed through my language and pick up on where I have been, where I am now and where I want to go. With that knowledge, he helped me focus on the patterns of my behaviors to help guide me to utilize and/or change those patterns to reach my ultimate goals. Thank you Dustin for truly caring about my success and what it means to me.

Karen B.
Dustin, what an amazing coaching session I had with you. I was very impressed by your gifted ability to listen and understand what was discussed. And the positive feedback given. You are very sensitive and understanding. The world needs coaches like you. I am looking forward to working with you.

Sheila S.
Dustin is a friendly, caring and effective professional coach who is committed to helping others. Using a proven system, his intuitive questions and acute listening skills, he helps clients zero in on key issues that are holding them back. He will help you create a plan of action that will keep you on track by establishing specific goals and deadlines. A meeting with Dustin leaves you feeling empowered and excited about your life.

Ressy F.T.
Just imagine what would be truly possible if you have someone in your corner who always sees your potential, believes in you, connects you to your values, interests, talents and dreams, who is infinitely patient yet has the wisdom and courage to push when needed. Working with a wonderful life coach like Dustin is exactly that!

Teresa B.
Before I encountered a life coach I never thought to even set goals for my personal life. My life coach allowed me to prioritize my goals and he helped make them attainable without ever making me feel like a failure. Throughout my 3 months of life coaching, I was able to meet 5 major goals involving anything from how I spend my money to allowing more time for God in my life. With weekly contact sessions and the accountability that is always there, I feel like I could pursue this route whenever I have a life goal in mind.

Aubrey V.
The Smart Way To Find A Coach

1 Describe Your Goals

2 Get Matched

3 Free Consultations
Find My Ideal Coach Now