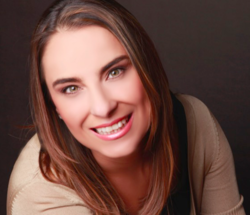 Ebru Goksu Yildirim

Dubai, Dubai
Life Coach, Career Coach, Leadership Coach
BA, Bachelor Degree in Economics, Master Certified Coach - MCC, Certified Co-Active Coach - CPCC, Organization and Relationship Systems Coach - ORSC & NLP
I believe that everyone is a Dream Catcher. I find fulfillment in life by supporting others in discovery and pursuit of their dream through unlocking their true potential!
About Me
I am an empowering, creative, and growth oriented ICF Accredited MCC and Certified Professional Co- Active® Coach along with some other coaching credentials such as; Organization and Relationship Systems Coaching (ORSCTM), AoEC Executive Coaching, and Systemic Coaching and NLP. I've been coaching individuals, expats, executives and teams since 2011.
I'm, also, a faculty member of Academy of Executive Coaching (AoEC).
I have a BA in Economics, and am a Marketing Communications Expert as well, with over 15 years of experience, which I gained through working in different fields of Advertising and Marketing in the MENAT region.
I've been an expat myself for over 15 years, and studied, lived and worked in various countries, which in return broaden my vision and strengthen my skills as a coach. Prior to coaching, I held some senior regional roles in the corporate world. This experience enabled me to be exposed to different cultures, and deepened my knowledge in cultural sensitivities, and differences. During my corporate experience, I led large businesses and teams.
Being a bilingual (English & Turkish), intuitive and fierce life, career and leadership coach, I blend my coaching skills and tools with life and business experience. As a passionate coach, I build rapport, hold accountability, and create safe environments in which I intrude and champion my clients, deepen their knowledge and forward the action through resonant choices that evoke transformation.
Please feel free to contact me to schedule a free sample session!
Reviews
5 reviews (5.0)
This is the most engaging and enlightening course that I have ever attended. Over the course of 2 days I have learnt things about myself that I either never knew or didn't realise to be true. It has provided me with a better understanding of personal interactions and what does and does not work when engaging and attempting to influence people. I would recommend this course to anybody who is prepared to be open and engaging.

Senior Director
The Power of Presence programme exceeded my expectations! Leila and Ebru brought so much energy, passion and personal experience to the programme. They were challenging yet trustworthy and did an outstanding job of getting all the managers to be open and honest with themselves when reflecting during their self assessments. The greatest gift they gave all the delegates was in their one-on-one feedback and coaching during the breaks to assist the individual on their journey of self-discovery and realisation. The feedback at the end of the programme was – "this is the first course I have ever been on where the focus has been on MY personal development". Thank you Leila and Ebru for making a real difference to the mind set and self-belief of our managers.

Training Director - Aggreko
I kept hearing about coaching, and thought it was just another fad in today's self-help world. I entered with skepticism, and walked out recommending it to every person I know. There's so much about ourselves we're not aware of, coaching helped me discover many of the beliefs I've had that were holding me back, and I can say I'm a much better, more empowered, self-aware and happier person today as a result of it. Ebru's coaching comes from a deep-rooted caring and life experience, which really helps her understand and help people, especially when they're struggling with something tough. She's always honest and genuine, that's the kind of person you need to help you out. There's no shallow, flaky or theoretical practice, just solid, actionable and truly helpful sessions that truly help you improve

Planning Director
Ebru is very positive and cheerful. She's a people's person and spots potential in people and encourage them to be brave. That's the reason why I chose her. She's patient. When I needed an expert to guide me and inspire me to get on the right track, she made me open up my mind, confront my weaknesses and set goals to overcome them. Ebru is a mix of great skills and a big heart

Natalie Shardan, Senior Advertiser
Ebru is an intuitive coach with great sense of creativity and fun. She creates a safe space and holds you in your greatness. She helps you to look at the bigger picture and take action. Her nurturing energy combined with fierceness and wisdom makes her a unique coach.

Fatima Nakhjavanpur, Executive and Leadership Development Coach, CPCC, PCC