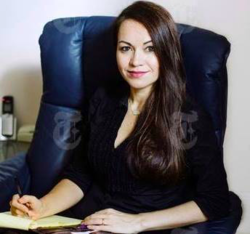 Elena Mosaner San Diego, California
Executive Coach, Relationship Coach, Life Coach
BS, MS, Master NLP Practitioner, Certified Hypnotherapist
If you are ready to restart your life after a critical life changing event or a period of prolonged search & stagnation, you are my client. I work with business, leadership and personal issues.
About Me
Have you been going from relationship to relationship, unable to manifest a meaningful partnership? Has a relationship recently ended and you have lost faith in finding a life partner?
Are you stuck in a family business, profession or job that is not satisfying to you? Have you lost your business or have been through financial hardship or a bankruptcy and crave to get back on track? Are you seeking your true passion or a meaningful work, wanting to understand why you are here?
I will help you build a transitional bridge from where they are today to a more fulfilling life chapter fueled by a new purpose, meaning and clear action plan.
As your coach, I will help you dig deep and find your inner resources so you can make the transformative change to live the life you desire. I can help you better identify and understand your strengths and virtues, release blocks, transform limiting beliefs and learn how to connect with a source of strength and wisdom to manifest a new life chapter.
I use a solid toolkit of evidence-based coaching models, such as appreciative coaching, strategic inquiry, cognitive coaching, positive psychology, adult learning and development, as well as proven belief shifting techniques including but not limited to NLP models and exercises. Together we will develop a new growth mindset and motivation. You will learn to program yourself using a variety of self-hypnosis and visioning techniques.

I came to the US as an exchange student and later settled in New York City. After 18 yeas in Manhattan I moved to California. In NYC I had a hypnotherapy and coaching private practice, and was featured by New York Times, NY Post and ABC Good Morning America as one of NYC's top hypnotists. I am an ICF Certified Coach and Master NLP Practitioner. I have received Master's in Science in Executive Coaching from UTD.
Reviews
Elena has 3 reviews.
The essence of an effective professional coach is the ability to listen and allow a deep dive into the clients own mind for self discovery and formulating actions.
Elena Mosner embodies these qualities to the highest degree possible. This appears to be to a large part to her Coaching education but also her background in the field of Clinical Hypnosis.
My name is Ramesh Kumar. I am a Physician specializing in Oncology in Florida and I have had the good fortune of working with Elena for about 6 months figuring out my way forward in this world of ongoing turmoil especially in the rapidly changing healthcare field.
The results that I have achieved with coaching has allowed me to complete a HealthCare Leadership program at Harvard Medical School, a journey that took me around the world guided by the best faculty on the planet that has changed my life and those of my patients for the better. Self-discovery also led to completing a Medical Acupuncture Course at Harvard Medical School, an area that would have made no sense to me a few years ago. All these incredible changes are all due to the abilities of coaches such as Elena. I am glad that she is part of my life and I hope to continue an ongoing professional relationship with this incredible person for more better tomorrows.

Dr.Ramesh Kumar
Going to see Elena Mosaner has been one of the most rational and important choices I have made in my life. To come across a professional that can unearth and see you beneath whatever your confinement may be – is a truly remarkable experience. Rest assured, you will be met with openness, compassion and the highest level of professionalism. Through dead-on precision and ease I was guided through to the other side, and woke up to see something I had long-since forgotten – myself.

Emily Pfeffer
I was initially terrified of seeing Elena! Not because of something that she did, but because the thought of someone in my head freaked me out. I actually did not show up for my first session because that fear was that intense. I sucked it up and made another appointment and Elena was so understanding about the situation. Elena put me at ease within seconds and she is extremely easy to open up to about the issues I have been having. We talked and within minutes devised a strategy to help me resolve the issues I have been having. After our first session I felt like a different person. I thought of it like a computer and my operating system was updated to the proper programing. I saw Elena a second time to reinforce this new programing. I will visit Elena further times throughout the years to keep me on this new path of mine because I want to not because I have to. I feel like I am seeing the world through new eyes. What once affected me negatively, no longer does. I feel totally comfortable in my own skin and for once feel like I am in control of my life. I have life goals that I now know are attainable. Before seeing Elena, I was stuck in a constant rotation of events in my life that I could not escape by myself. I was my own worst enemy, but now I can be my own hero. From the bottom of my heart, Thank you Elena!!

Shaun Thompson