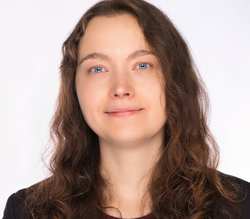 Elena Popretinskaya

Munich, Bavaria
Life Coach, Executive Coach, Career Coach
ICF Accredited Coach, Certified Agile, Enterprise and Team Coach
Are you an experienced woman struggling with self-doubt, anxiety, and procrastination? I'll help you to build an unshakeable self-trust and create your success in life, work, business & relationships.
About Me
Are you a driven professional woman whose hard work has taken you far in life & career? But your self-doubt and anxiety are still not going away?
You've accomplished a lot, but you don't FEEL your success. You doubt it will stay.
Every day starts with mild anxiety. "How will I make it through the day at work?". You often feel like an impostor and that things are way over your head. So you keep working extra-hard, losing that precious balance you want in life, slowly burning out, having a hard time relaxing.
You wish you dared to go for the next step (a new job/role/career/relationship), but hold yourself back. Even if you go for it, you doubt you can succeed.
After a big accomplishment, you feel a momentary relief, followed by anxiety and feeling pressure to uphold a new level of standard.
You cannot stop comparing yourself to your colleagues & friends. You wish you had as much confidence & peace as they do. You feel you are falling behind.
You often wonder, "What do I even want?" feeling frustrated not having the answers.
All of this because you don't trust your abilities. You believe you have to earn your worth. You don't really know what's important to you.
I know how frustrating it is. I grew from an engineer to CTO, moved countries, switched careers. But I still didn't feel my success and doubted it'll stay.
There is a solution. I've made it my mission is to share it with as many people as I can.
With my clients, we break through self-doubt, anxiety, procrastination, perfectionism to going for what they really want in life on solid grounds of unshakeable self-trust and honest self-acceptance.
What's possible? Buying a house in one year instead of 10 years.
Going for and getting that job with a 30% salary increase.
Knowing it's not a fluke. Feeling honest self-esteem and peace.
I've seen my clients going for it and make it real. You can make it too.
Reviews
2 reviews (1 verified) (5.0)
Elena has supported me for the very first weeks of my new role where I took over a challengeing 2 step up role in a transitioning environment. She made me aware of what I can do, and how to look after myself if I would like to look after others. She adapted her way into mine, within a predefined timeboxes, where she really guided me through pinpointing questions into the journey I am taking off.. very much looking forward to work with her again.

DUYGU
When I met Lena, I was struggling with feelings of apathy, doubt, and powerlessness. I was overworked and not happy with my job. As a project manager in IT, I had a vague sense that I had a bit too much to do for my pay, but I doubted I could ask for more exciting projects and a raise. After a 10-hour working day, I've spent my free time mindlessly browsing social media, feeling guilty but convincing myself that I have no energy for anything else. I felt like I've hit bottom. Lena helped me to get crystal clear on what was happening, what was holding me back, what kind of fears and beliefs were driving my behavior. We worked to clarify what I truly value and what I wanted, and then she continuously challenged me to align my life and actions with what's important for me, even when it was scary. After six months of coaching with Lena, I've turned my life around. Now I have a new job with exciting growth possibilities (and a 30% salary increase ). More importantly, I feel much more peaceful, confident, and aware. My life is more balanced, and I trust my ability to be what I want in life. I know the path I want to follow, and I know how to follow.

Anna, Software Project Manager & Scrum Master