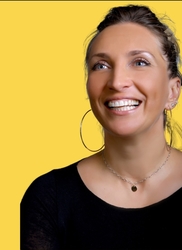 Elena Rethorn

Dubai, Dubai
Family Coach, Relationship Coach, Life Coach
Parent Coach, Pedagogy Specialist, Mother of 2
My ideal clients are adults & children who feel lost or frustrated from their relationship, job career, goals or even a purpose of life! I have 20+years of experience to help people to find their way.
About Me
You can even travel to Mars, but when you come back, there should be always a purpose of life or a goal that you are going towards.
Do you agree? If anyone should be happy genuinely, they should be happy with themselves & around others in any circumstances.
I am a coach focused on happy relationships. My clients are either a parents who are focused on raising healthy, confident & happy children without bearing the stress or anxiety or just a single person, who is looking for a different pathway of satisfaction. Whatever your goal is, I will bring you there without judging.
I work with the Founders and CEOs of Multi national companies to home-maker mothers. When it comes to a client, every person I worked with has faced some issues in their life that put them in a stressful situation and this is normal. This is the role of a competent coach to bring the client to a different state where he/she desire to be ASAP.
Here comes the need for a coach. A coach, like me with 20 years of experience, can coach you to adopt a simple and happy life style. Using NLP techniques, I can remove the stress and negative thoughts from your mind. You will be guided into your own vision and goal with immense confidence and within the balance of your wellness if you want.
If you trust me, your life will take exactly the turn that you are looking too after our very first meeting.
Now something personal about me. I am a mother & wife. I was working in leadership roles for different organizations in different countries. But to focus on helping more people from their daily struggles, I detached myself from the corporate world. I am an award-winning, ICF certified coach, NLP practitioner & hold an MSc in HealthCare. My favorite hobby is dancing & i m on a mission around the world to find answer on a question: What is the purpose of life? In different countries with different people. Follow me in my social media FB & Instagram: Elena Rethorn & Parent2Be.
Reviews
2 reviews (5.0)
While a dad is the first hero for many, I had a terrible relationship with my father. I even had a question "am I his son!?". I grew up with insecurities and lack of confidence. Years later, when I became a father to my son, I was happy, but at the same time, I was clueless about building a happy relationship with my son because of my childhood experience. My life changed after I met Elena. Her words answered all the questions and fears I had for years. Her advice, solutions, and recommendations gave me confidence and brought me until this day. Now I have a lovely relationship with my son where the mutual understanding, transparency, unconditional love, and bonding save both of us. I'm sure that my son will be a great human and father in the future. If I made a difference for myself, my son, and the world, I believe everyone can do it. Richard Floro, Professional Dancer, Philippines

Richard Floro
Life is not easy for a first-time working mom. But Elena made my journey smooth and stress-free. I discovered the power of learning 'Parenting' when Elena helped me understand the suffering I went through as an expecting mom and offered the right solution during my pregnancy and post-delivery. Now, when I see my friends getting worried for various reasons, I know that I was with the right person because I know to balance my life as a mom, wife, and employee. I realized that only happy parents could raise a happy child.

Gaya, Marketing Specialist, Dubai