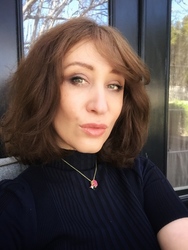 Elena Zakrutaeva

Austin, Texas
Executive Coach, Life Coach, Leadership Coach
ICF, ELI-MP, COR.E Energy Leadership Specialist
My ideal client is a resourceful, vibrant and high potential and dynamic person. He or she is brave, curious about life and people and eager to keep growing.
About Me
As a coach I am committed to providing you with support, accountability, and tools that will empower you to be the best leader you can be, so both and your organization will benefit from your growth. I understand from the firsthand experience challenges and complexities that my clients are facing on the daily basis: increasing employees productivity and engagement, decreasing the turnover, making accurate decisions under the pressure and in fast changing environment, and all of it while reducing the burnout and stress. My clients learn to leverage their strengths, develop new competencies and knowledge necessary for success. We work on assimilating into new and expanding roles, effective leadership, successful career transition and team effectiveness.I love to see when my clients reconnect with their lives' purpose, dream boldly, set their goals and bring them to fruition.
I began working with executives early in my career, first as an executive assistant and interpreter and later as international business development consultant. I coach executives and leaders in different industries: high-tech, financial services, healthcare, oil and gas industries, etc.. I am inspired by my clients and their work passion and a desire to become more effective leaders. As a coach I balance a strategic mindset with a wide set of effective coaching methodologies and tools to ensure that each of my clients reaches his or hers goals. I always customizes my approach based on the unique needs of the leader or the organization I work with.
My life journey took me from Russia to the UK, Greece, Cyprus and the USA, giving me opportunities to work with both individuals and corporations acquiring invaluable experience, multi cultural awareness and business expertise. I have lived in Austin, TX with my family for the past 12 years. As a mother of an active 10 year old boy, I am very aware of the importance of the career and life balance, and making the most out of both.
Reviews
4 reviews (5.0)
Working with Elena as my leadership coach was one of the best investments of time and energy I have ever made. Whatever situation I brought to our sessions, Elena skillfully and thoughtfully asked just the right questions to help me gain clarity and insight into how to approach problems, make decisions and determine what best to do next. In helping me think more deeply about my role and my approach to leadership, Elena enabled me to deepen my strategic agility and be more effective in driving the business through my work. Elena constantly amazed me with her deep thinking, and her intuitive ability to guide me to the heart of the matter. I would recommend Elena wholeheartedly to anyone who wanted to deepen their leadership skills and take their work and their life to a new level.

Laura Burns, Leadership and Organizational Development Senior Manager, HR, 3M, Austin, TX
Elena possesses great expertise in creating and leading sophisticated learning sessions with an approach to client management. When I partner with her, I know that the content will be on-target, the sessions will hit the mark, and I'll be kept in the loop with just the right amount of information and attention throughout the whole process

Dewayne Naumann, CEO, Equity Liaison, Austin, TX
Elena offers a combination of business smarts, team and leadership expertise, that make her a really effective partner. She helped me to align my personal growth and career goals. As a result, she has helped me to learn how to lead more effectively.

Kristina Jakstas, Mission Capital, Membership Director, Austin, TX
I came to Elena with an agenda that kept shifting but she never missed a step!. With great confidence and professional demeanor, she used her intuitive skills and empowering questions to help me find opportunities in every problem and situation. And in the process I have learned to become conscious of where I am energetically and how to shift the energy higher so that I can be more productive and at the same time peaceful.

Jose Guzman, Statoil, Houston, TX