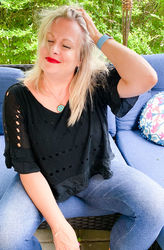 Eleni Kapetanios

Guelph, Ontario
Life Coach, Business Coach, Executive Coach
BA, MA, Master Practitioner of NLP, Time Line Therapy®, Hypnosis
Is anxiety, depression or trauma keeping you stuck and unable to create the life you want? I help high achieving people eliminate these issues, so they can feel successful in all area of their lives.
About Me
Eleni Kapetanios is a Master Practitioner of NLP, Time Line Therapy® and Hypnosis, and the creator of The Rapid Relief Method.
She struggled for a long time with anxiety and PTSD after the birth of her son, born at 26 weeks. She was told she would always have this, and just had to learn to manage the symptoms. It was only once she discovered techniques to change her brain, and worked with her own coach, that she was able to heal.
Eleni became fascinated with how and why this non-therapy therapy worked so well, so became trained in it. Her clients started getting amazing results, in fact, she has a 97% success rate. Then she trained some more, in all different modalities. Eleni then created a process -The Rapid Relief Method-to help people eliminate their problem in a very short time, without the painful reliving of events, or talking about it endlessly. The Rapid Relief Method eliminates the problem where it starts, in the brain, so results are fast. Clients do not have to talk about their problem over and over again, because the work is done in the brain, changing the neuro-patterns, so the problem goes away.
Many of her clients have been told they will always suffer with anxiety or PTSD, and just have to manage the symptoms. That is not true- it can go away completely, with the right treatment.
Eleni works with clients from all walks of life, from doctors and surgeons to CEO's to stay at home moms. She helps people create clarity in their brain by getting rid of negative past emotions and events so they can be present in the moment, make clear decisions and create the life they want.
Reviews
7 reviews (5.0)
Eleni changed my life for the better! I cannot say enough good things about my coaching experience with Eleni. She was able to tackle all of my weakness and turn them into strengths. I am the best version of myself and I have Eleni to thank for it!!!

Cecilia
Being part of Elenis 8 Week Group Coaching has been mentally and emotionally opening for me. At first I was nervous about what would come about from the group or what to expect, but now I am already thinking of how I can continue working with Eleni now that the group sessions have come to an end. The tools and techniques she uses during the sessions and provides us with each week corresponds perfectly to the emotion we are working through. I am already noticing a difference in myself and I can definitely thank Eleni for that!

Baylee K.
I have worked with Eleni in all areas of my life - business, health, relationship. I texted Eleni on my wedding day recently and told her that I couldn't have married the man of my dreams without the work I did with her and I meant it. She has made all the difference in my life. She has helped me undo so much of the baggage and beliefs from my past that were keeping me stuck.

Elaine
I don't completely understand how NLP works, but it does! Eleni is non-judgemental, supportive and instantly made me feel comfortable and that my issues were completely normal and that I can move on from them. I have done a lot of traditional counselling but much prefer Eleni's approach. I highly highly recommend working with Eleni for any thing that you are no longer wanting to be your story, things that you are wanting to leave behind and bring in something new. Eleni really has some amazing and powerful skills. You will not regret working with her.

Lisa
My coaching with Eleni was life changing!! I I went to see her for some help with my sleep and came out of the program, not only with the ability to sleep peacefully and completely, but with a new found love and respect for myself. I was blown away at how effective and easy it was. She is absolutely amazing!

Julie
Eleni helped me work through my anxiety and past mental health trauma in a way that didn't involve me having to re-hash the events. It was the exact therapy I needed to be able to move forward and support patients in my practice. Eleni was the gift that kept giving!

Dr. Antoinette Falco, ND
Eleni is an amazing coach ! Working with her has given me the ability to go into situations feeling confident that previously would have given me anxiety. I now have more self love . She compassionate and patient when working with her, its life changing.

Lori Gregory