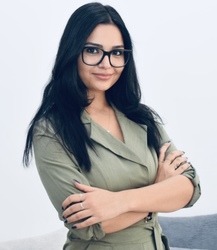 Life Coach, Relationship Coach, Executive Coach
Industrial organizational psychologist, CBT, Career Coach, NLP Certified
Are you feeling lost? doubting yourself? Low motivation and low self-esteem? Do you know what you need to make a change but you don't know how? let's transform you & reintroduce you to yourself!!
About Me
I'm Eliza, the founder of THE NEW ME, an International Life coach, a certified Cognitive Behavioral Therapist, and an Industrial-organizational psychologist. I studied and worked in the United States for the past 7 years, and I currently reside in Dubai. I offer my services both in Arabic & English. I have also worked within corporate settings, public mental health organizations, university settings, and NGO's to increase employee productivity, solve work problems, and create a healthy working environment.
Do any of the following describe you?
·You are feeling lost and doubting your abilities, and experiencing low self-esteem.
·You know what you need to make a change, but you don't know-how.
·You are too afraid to step out of your comfort zone and face challenges.
·You want to enjoy a healthy relationship, but you don't know if the problem lays within you or your partner.
·You want to change your profession, but are afraid because you don't know how, or whether it's worth it.
·You are susceptible to stress and on the edge most of the time.
·You are experiencing difficulty transitioning between things at work and in life.
·Your lack of motivation & limiting beliefs is preventing you from achieving your goals.
I bet you are reading this and nodding along. After years of experience, I discovered an important truth — the way forward lies within you!
I can also help you improve your organizational well-being!
Industrial organizational psychology is a fairly new field that applies psychological principles into the business setting to make it more productive.
As an I/O psychologist, I will help you with the following:
•Use psychological principles to solve the root cause of workplace problems, improve employee performance, & work climate.
•Help you improve leadership skills using emotional intelligence.
•Help your employees become team players and cope with maladaptive behaviors at work.
•Create programs to ensure the well-being of your employees and organization.
Reviews
5 reviews (5.0)
Very positive experience, and completely satisfied. I was a people-pleaser, lacking self-confidence, unhappy in all of my relationships (Love, Friendships, Family, Work) and I was very hurt by people's actions or possible thoughts towards me. I was drowning in a sea of negative thoughts and could not seem to get out of it. Feeling that I was in a hopeless situation, I reached out to Eliza. I remember talking to her on my first session in tears, and with the firm conviction that she wouldn't be able to help me in any way. From the 1st session, she was able to pin-point what I needed to work on and what was the cause of that deep sadness I was in. She was able to put into words feelings I did not know how to phrase. She was able to understand what I was feeling inside even if my words would not come out right. She then started to work with me point by point and issue by issue. She stayed with me through it all (and is still by my side), checking up on me and understanding what I can and cannot do (according to what I am ready for she helps me move forward at my own pace). By the 3rd session, I felt the huge change in my life and that sadness was gone. Tears had left to let in a shining smile. She helped me in setting boundaries, in learning how to only tolerate for myself what I wish to, in prioritizing myself and my wellbeing, in avoiding trying to please everyone if that is going to be harmful to me, in getting out of toxic relationships, and most importantly she helped me in knowing myself better. Overall, the experience was great and was life-saving for me. Thanks to her efforts, and her working with me hand in hand, step by step, I am feeling way better in all aspects of my life. I am finally happy with my life choices and do not feel like I am forced to anything anymore. I now have confidence in my self and am able to state my opinions without fearing of displeasing people. I am able to say "no" to people when I feel they are using me, or disrespecting me (which was impossible before) and much more that couldn't be described in words...

Sara, Teacher, Ajman
I have worked with Eliza multiple times for business/career and life coaching. Her advice and insight have been very accurate and valuable for me no matter what the issue was at the time. She has helped me through work planning and stresses, relationship trials & many others. I highly recommend Eliza to anyone who simply needs a boost in life; whether it's around career, personal growth or relationships.

Rose Baybay
I just want to say that I haven't come across any psychologists or life coaches that are as caring and humble as Eliza. Not only she is great at what she does, she CARES deeply about her clients. She keeps checking on you and makes sure that everything is going well and according to the plan. She is also so good at answering her phone, if she is busy, she will get back to you as soon as she can. Amazing mentor and coach!

Danish, project manager, Al Khawaneej
Coach Eliza sees right through you! she is the kind of person who makes you feel that everything is possible. I worked with her to overcome my low self-esteem. I never thought I was capable of change. I am very popular, always on the top of my game, but I never saw myself the way others see me. I always thought that I am not enough. Eliza helped me discover the true version of myself. A version I didn't know I had. She helped me discover my strengths and improve my weaknesses to achieve everything I want in life. The OLD me had low-self esteem, but the NEW me is a completely different person. She is very caring too!

Salma M, General Manager, Dubai
Coach Eliza helped me overcome my brutal breakup. I was in an incredibly dark place where I couldn't see the light at the end of the tunnel. She helped me understand how our thoughts aren't facts and do not reflect reality. I worked with her for about 6 months. Through our coaching journey, I became able to see things from outside the box and think things through. My breakup was one of the worst things that I had to deal with in my life. It was very sudden and so unexpected. She has a way of making you see things clearly. Now, I can confidently say that I accepted what happened and moved on. Frankly speaking, I don't know if I could have made it without her guidance. She's very knowledgeable and sees through people!

Fatima Alawali, General Manager, Dubai Eye