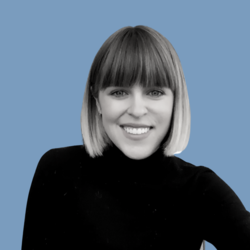 Elizabeth Fischer

New York, New York
Career Coach, Leadership Coach, Executive Coach
Certified Cognitive Behavioral Coach & Design Thinking Workshop Facilitator
I coach women to make more money, transition into fulfilling career moves/pivots and overcome imposter syndrome to become highly effective leaders.
About Me
I believe that the essence of being human is seeking to find your sense of purpose in life. Having a sense of purpose requires having a sense of direction. Having a sense of direction implies that you're going somewhere. I have designed roadmaps, both tangible and intangible, that help you navigate the highs and lows of life in the manner that is most authentic to you and in alignment with your unique journey.
The tangible version of those roadmaps includes the Everyday Visionary and Everyday Human 12-week daily planners available on the ZerModus website. These cognitive-behavioral products I've designed have been featured in HuffPost, Mashable, PopSci, D Magazine, and have been reviewed by my customers as "life-changing." Not bad for a daily planner, right?
The intangible roadmaps I've created are my 1-on-1 coaching programs designed around specific challenges you might be facing with your personal growth, relationships, and/or your career… all with the objective of self-actualizing. My coaching style with these programs is a combination of:
- Active Listening
- Illuminating Questions & Journaling Exercises
- Perceptive Insights & Pattern Recognition
- Empathetic Perspective
- Intuitive Guidance
- Pragmatic Cognitive Behavioral Techniques
- Grounding Mindfulness Practices
I am a second-generation entrepreneur, certified cognitive-behavioral coach, and design-thinking workshop facilitator. I have a BA from Southern Methodist University in Art History and Psychology. I also discovered the Five Phases of Personal Empowerment and designed the first-ever recovery planner with the Everyday Human. My life's purpose is to help you find yours. Cheers to your journey of self-actualizing.
When I'm not coaching I'm the Head of People for a high-growth SaaS startup in New York City.
Reviews
Elizabeth doesn't have any reviews yet.