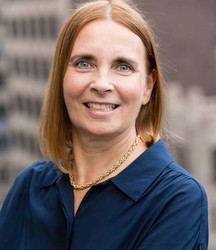 Elizabeth Gambino

New York, New York
Executive Coach, Leadership Coach, Career Coach
I coach leaders seeking to increase their effectiveness, whether new in role or established; those seeking to connect their life work with their values; introverts; those at a career crossroads.
About Me
I believe that when the work we do and the lives we lead are aligned to our values, we are at our happiest and most inspired. I work with clients who may be feeling unfulfilled or out of alignment with their values, or even conflicted between competing values.
Practically speaking, my clients may be seeking to change careers or unsure of what they want to do next. New managers may be learning how to lead in ways they never have before, while established leaders may be seeking to increase their effectiveness. I love working to empower introverts, with leaders who are seeking to build a team of diverse workstyles, backgrounds and demographics and with those who are trying to make their voices heard.
With over twenty years as a Human Resources leader advising at all levels in the organization, I have combined my experience with the power of coaching to help people achieve their most fulfilling lives. Topics such as career development, managerial expertise, leadership development, performance acceleration and strategic alignment are frequent concerns for my Corporate clients, while strategic direction, balance and motivation are often of concern to entrepreneurs.
Your agenda is my agenda. If you find it helpful, I often start with a values assessment, to ensure that we stay clear on what really matters to you. I also work with the Energy Leadership Index, a powerful tool that identifies where your negative energy may be holding you back. We work together to identify your dreams and goals, and what limiting beliefs or blocks may be holding you back from achieving the life you want.
Reviews
3 reviews (5.0)
Eliz is a very skilled coach who helps her clients achieve their goals. Eliz masterfully creates and holds space of no judgement and curiosity, which encourages deep reflection and self exploration for her clients. After each session with Eliz I feel like I was truly heard, understood and empowered to go out and start actively making my dreams a reality.

Irina F., New York, NY
A deep breath of relief follows after each coaching session I have with Eliz. As a senior leader, I'm faced with complex issues every day. Eliz's coaching style helps me to see the value of IQ and EQ. Both angles have made an incredible difference in how I approach issues. In one particular session, Eliz asked such thoughtful questions that we ended up co-creating a mental visual which I still leverage to this day. I'm very grateful to have Eliz as my coach!

Liz R.
As a small business owner, it was all too easy to allow work to take over my life. I love what I do, but I wanted to find some things that I could to that would provide meaning in new ways. Eliz helped me to explore what is important to me, which guided me to a new project working with immigrants.

Anne Harper