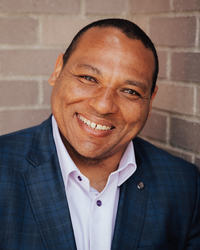 Elsio Eybrecht

Kirkland, Washington
Life Coach, Health and Fitness Coach, Spirituality Coach
"Through my services, clients of all ages who feel disconnected, uncertain, stuck, overwhelmed or under-satisfied will find their footing, widen their stance, and find their position of strength."
Details

Kirkland, Washington 98033
(425)-968-8339
Send Message
Visit Website
Hourly Rate: $150 to $250 US Dollars
Gender: Male
About Me
As a child growing up in St. Maarten, Dutch Caribbean, I spent hours on the court honing my craft. It wasn't long before my career as a tennis player gave way to a career in coaching.
Early in my journey as a coach, I began to recognize the tie between tennis and human emotion. As an intuitive empath, I could clearly see the effects of a busy mind, heightened anxiety, or even depression on a player's performance. This recognition inspired me to build my wildly successful enterprise, The Tao of Tennis Competitive Edge Method, a new-age method of coaching that encourages playing the ball in motion rather than playing your opponent.
Using this coaching method, which encourages mastering one's emotions through stillness, gave me a new window into my students' lives. While teaching the art of regulating mind and body from a clear and balanced point of attraction, I was able to teach my clients techniques that improved their tennis game while simultaneously giving them tools to overcome difficulties in life.
Soon it became clear that my students were experiencing positive life changes thanks to my coaching sessions. My clients were thriving on the court and in their personal lives, and I knew that I had to honor this work Spirit wanted to do through me.
In 2018, I launched my transformational coaching business, combining traditional coaching techniques with those that are Spirit led. I am a Chek Institute holistic life coaching, primal pattern movement, and practical applications of breathing, posture, and movement personal trainer. These certifications have added even greater depth to the methods I have employed to change lives for the past twenty-five years.
Reviews
4 reviews (5.0)
Elsio is a forward thinker, whose presence and disarming demeanor liberates those around him from the proverbial Pandora's box of negative self-talk. He is dedicated to producing results through recognition of self-evaluation and reconditioning the human dynamic at its' very core. To say he is gifted is an understatement. He transforms those with the desire to succeed by the way of self-reflection, goal setting and a purpose driven life by taking a "Swim in the Ocean…" with him. Elsio is the ambassador of mental and emotional freedom, self-empowerment and the greater good. He emulates the brightest shining light, passion, zeal and version of us all."

— LANNA MONDAY
"I appreciate so much that Elsio went above an beyond to teach my daughter strength and perseverance. He has always encouraged and believed in her beyond what we've experienced from other professionals. I would recommend Elsio to anyone and everyone. "

— VIVIAN HE, PARENT OF FORMER STUDENT
"What impresses me most about Coach Elsio is his ability to connect with each of his students individually regardless of age or ability. He has a unique capacity to combine professionalism and discipline but also keep things fun and positive. I have benefited tremendously from Coach Elsio's teaching and philosophy of life. "

— MARK SIMMONS, FORMER CLIENT
"Elsio's skills as a life mentor matched that if not exceeded any counselor I have ever visited. Elsio managed to help me with my anger issues and alleviated my stress from problems at home. Without Elsio and his mentorship, I am not sure where or what I would be like today. . .his lessons of life and ball still remain in my memories to this day. You cannot and will not find a better tennis coach or life mentor than Coach Elsio. He changed my life. . . ."

— TRISTAN DANG, FORMER STUDENT