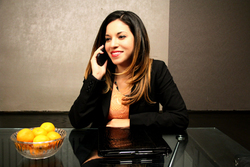 Emily Correa

Chicago, Illinois
Life Coach, Business Coach, Spirituality Coach
Graduate of Institute for Professional Excellence in Coaching, Masters Degree in Training, BA in Psychology/Sociology, Minor in Business Management
I co-partner with my clients to take BIG CREATIVE RISKS in life and business as a team to MAGNETIZE their PERSONAL BRAND to the WORLD and increase their levels of Law of Attraction.
About Me
Welcome! My name is Emily and I'm a 350 - hour International Coaching Federation certified Life, Business & Law of Attraction Coach Trainer with my own highly rated 90 day certification program at Ultimate Spark! Coaching. Having spent 7 years in the industry, I know how to train COACHES and CLIENTS alike to have a "SuperCoach Mindset".
My magic powers are in publicity, marketing and branding and I help my clients by making power moves in their lives starting in the very first session..happy to coach you in Mindset, Creating Goals, Spirituality and tapping into your inner Goddess or Creator, Law of Attraction, Energy Work, Business Strategies..and connect you with a HEALTH, LOVE, RELATIONSHIP, SPIRITUALITY or other coach on my team. All first sessions free!
I am passionate and full of vibrational energy, and (intuitive I must admit) if that's the kind of coach you desire, I will not disappoint. I have the unique ability to mix my intuition with sharp business strategies to help guide my clients towards prosperity and new decision making. My style is straight-forward, assertive, motivating, with sparks of humor and pure creativity.
There are MANY COACHES out there, but not many are:
1. CERTIFIED through the International Coaching Federation with
2. OVER an amazing 350 hours of training
3. Have a Masters Degree in Training with a 3.8 GPA
4. a BA in a double major of Psychology/ Sociology with a minor in Business Management
5. have 17 years experience in the Arts (the ultimate think-out-of-the-box)
6. 10 years in sales.
I'm ready to work with you when you are.
Reviews
3 reviews (5.0)
Going through the Sixstar training process has been a valuable and eye-opening experience for me. Using the tools on ourselves that we are learning to use to coach our clients isn't just great practice for working with others - but everything has a way of coming into alignment for us as coaches embarking on a new life path as well. I highly recommend it!

Demi Pietchell Newell
After nearly six weeks, I have been very impressed with the instructor Emily ( she is a godsend) and with Sixstar as a company as a whole. They should all get a Academy award for having such a outstanding program!!

Anthony Donkor
Becoming a coach at SixStar Coaching and Mentoring has helped not only my clients, but me as well. I have found to look deeper into my own thoughts and feelings about what is holding me back in life and what I can do today that will help design the future I want and desire. I have learned more about myself in this accelerated program than I have in years!

Mrs. Elizabeth Jackson, MSEd