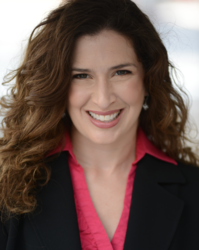 Emily Golden

Cherry Hill, New Jersey
Career Coach, Executive Coach, Leadership Coach
BA, PCC, Accomplishment Coaching Certified Coach, EQi 2.0 Certified, Predictive Index Practitioner
Overwhelmed trying to balance your work & family? Thinking "having it all" is a pipe dream? It doesn't have to be this way. I've cracked the code to get you off the Struggle Bus. Let's talk!
About Me
Are you overwhelmed with work and family life? Up against conflicting priorities like that after-school game vs. that last-minute project? When you're at work, is your head at home, fretting over your to-do list, your kid's upcoming exam, the meltdown your teen had over the weekend? And when you're at home, do you find you're still immersed at work, worried about a deadline or demanding boss?
So much for "having it all"! And the worst part is you don't see any other way. Bills are high, you want the best for your kids and you can't stop hustling. But what you fail to notice is that your family is noticing YOU accepting a perpetually rushed and stressed lifestyle.
It's time to get off the Struggle Bus.
It's possible to have a rewarding career as a working parent. And I know this because I was you, burnt out trying to manage it all. It was exhausting me, impacting my relationships and worst of all, I felt my kids were paying the price...
This is where my coaching comes in. I've successfully cracked the code to get off the dissatisfaction hamster wheel. We'll uncover what's in the way for YOU – a need to please, too many "shoulds," bad habits – to tackle frustrations, gain clarity and create a REALISTIC action plan.
The resulting shift will align with your TRUE needs and goals. You may find new freedom in your current position or move into one with more flexibility. Perhaps you'll turn a passion into a side gig or make a career pivot. Opportunities exist off the hamster wheel!
I combine 17 years in corporate HR, my experience as a mom of two kids with special needs and my passion for personal and professional development to transform my clients' lives.
A graduate of Lehigh University, I am a Professional Certified Coach (PCC) through ICF and an Accomplishment Coaching Certified Coach (ACCC) with 1500+ hours of coaching and 500+ hours of additional coach-specific training. "She just gets it," is what clients say of me. I'm in it to see THEM get what they want.
Reviews
19 reviews (2 verified) (5.0)
Matthew Farrell
Jerry McCarty
"Emily is an amazing Leadership Coach who really motivates her clients to unleash their hidden potential. She is very knowledgeable, structured around her coaching approach and has numerous tools and techniques that she unveils to her clients to help them become a successful executive. She adjusts her coaching to clients' strengths, work rhythm and inherent power style. I would recommend her to any aspiring leader who is willing to work on himself/herself and timely implement all coaching tasks."

Madhvi, Sr. Finance Manager, Houston TX
"Emily is an amazing Career Coach who I had the opportunity to work with for three months. She motivated me to see my strengths and hidden potential, all for the benefit of career advancement. She is very knowledgeable and structured around her coaching approach and I truly appreciated the positive acknowledgements she provided me in our weekly sessions, which allowed me to continue to stay upbeat and focused. I would recommend Emily to any anyone who is willing to uncover your hidden potential through these highly beneficial coaching sessions."

Jason, Sales Manager, Greensboro SC
"I reached out to Emily when I felt I was at a fork in the road in my career. There was pressure for me to choose a path, but I simply was lost in a foggy forest, not knowing which way to go. Emily's skills in extracting what I really want out of life was exactly what I needed. She made the path of self-discovery very clear and I finally found myself out of the forest and on new path (not even one of the paths that I initially was deciding between!) Thank you for being my light out of the fog."

Matt, PhD Chemical Engineer, Princeton NJ
"I have have worked with Emily for over 6 months and my life has really transformed with many positive changes that we have worked on together. Emily has a gift of being able to connect (even virtually in my case) and offer guidance and the framework around coaching principles. This has allowed me to view many aspects of my life with a fresh perspective and has given me the tools to tackle any challenge or goals I choose. In our time working together I have been able to achieve several goals in well being, relationships, and my business. I'm thrilled with my decision to work with Emily and partner with her in this Journey…. She is a wonderful person and an extremely talented and passionate coach! Thanks Emily!"

Adam, Founder & CEO, Raleigh NC
"My experience coaching with Emily was extremely positive. Our work together allowed me to gain altitude on myself and my path forward. Learning to practice self-forgiveness has shifted my relationship to guilt and improved my productivity which was the primary reason I hired Emily."

Matt, CEO, Philadelphia PA
"The opportunity to work with Emily came at a pivotal time in my life and career. Everything happened for a reason. I needed Emily to hold up a mirror in many areas; job, career, being a new mother, wife, daughter, sister. There are many successes from working with Emily. Mostly being intentional and focusing on my power and questioning "who says you have to?" With Emily it was all about incremental shifts, and working progress to my goals on saying yes, building confidence, restoring mind and body. She confronted me on my frustration at life and together we created awareness. More importantly we released things, so that I had the space to focus elsewhere and consider the next phase of my career as exploratory and less prescribed. Lots of laughs, aha moments, and my favorite was being acknowledged. It was very powerful and a rewarding investment in myself."

Julie, HR Business Partner, Bernardsville NJ
"I started working with Emily when I was feeling stuck and in a rut with my life. I was frustrated in my job, relationships and myself. I knew something had to change and even though I didn't know what, I knew it needed to start with ME. As hard as it was for me to take that leap, I did it and I have never been happier. Over the past 6+ months, I have shifted the story in my head about myself, learning to trust myself and feel a sense of pride I've never before experienced. Emily's style had me feeling safe and supported even when emotions surfaced that weren't easy for me to be with. Emily's process had me gain clarity around what I really loved about my current position and what I did well. I also clearly saw where I was trying to fit a mold that just wasn't me. I learned that I didn't necessarily have to leave my current employer to create the shifts I was looking for. Emily's HR experience came in handy in helping me create a custom job description for myself. Then, she supported me with the push and acknowledgement I needed to unapologetically ask for it! While I am pleased that my employer met my request and I am now in the job I designed for myself, the greater breakthrough for me was in learning to do what scares me. I have taken this confidence and realization into all aspects of my life. I now have more meaningful relationships, now the value of self-care and life a fuller life not holding back. Emily always says that growth happens outside of the comfort zone and my experience is further proof! The best part is that I can apply what I learned through working with Emily to every area of my life. Coaching is one of the best investments I've ever made."

Hope, Quality Assurance Analyst, Jersey City NJ
"I cannot thank you enough… You removed the blockage and helped to open the floodgates that's going to help me land. You are someone I want to keep in my life, you have amazing skills and great insight and I really really appreciate all you did for me."

Sue, Finance Director, Houston TX
"Emily has been like a much-needed "breath of fresh air" in both my career and my life. As a someone who has dedicated both life and career to creating things that aim to cultivate confidence in others, I can honestly say that having someone as intelligent, knowledgeable, and caring as Emily in your corner to help you cultivate the confidence needed in yourself as you navigate through the "uncharted waters" of life and work is absolutely invaluable. Not only does she have the experience and expertise to effectively help high performing individuals transition and/or progress in their work, career, and life, but her genuine passion to help others to reach their true potential is nothing short of inspiring. Emily's high level of emotional intelligence, empathy, curiosity, makes working with her as enjoyable as it is productive. She is also extremely thoughtful, understanding, compassionate, and down to earth so I found it really easy to open up and talk to her - which is usually the toughest part for me. With Emily's help I've been able to find more of the clarity and focus needed to bring positive change in my life and work. Being able to see myself from the honest, sincere, and genuinely unbiased point of view that Emily has been able to show me has really cultivated the confidence I needed in myself to reach my true potential. As a result, working with Emily has shifted the trajectory of both my life and the direction of my career for the better - which is why I believe Emily is a true "game-changer". I highly recommend Emily to anyone who wants to take things to the next level and anyone who's ready and willing to find clarity, focus, and purpose in either life, work, or both."

Tony, Entrepreneur & Designer, Harrisburg PA
"There's a difference between knowing that change is possible and making change possible. If you're on the fence about your career or just curious to know what it's like to work with a coach, connect with Emily. I can't recommend her more highly. She helped me identify my strengths, fess up to my bullshit, design achievable goals and always held me accountable. Emily infused every session with honesty and her consistent acknowledgment of my efforts and energy helped me move the ball down the field and into the end zone. I feel like a winner with Emily as my coach. You owe this to yourself. Give Emily a call and find out if you're ready to take the next step."

Liz, Photographer, Westchester NY
"Sessions with Emily taught me to think differently, shift my perspective and see new possibilities. I have gained clarity on the next phase of my career and life." - Andy, Director of Sales

Andy, Director of Sales, Bucks County PA
"Emily helped me step out of my ordinary thinking and engage to achieve my full potential, be truly influential and serve as a thought leader in the organization."

George, Finance Director, Houston TX
"I am happy to say that I received a promotion while working with Emily and I believe that our partnership played a part in that. I would recommend Emily as a coach to anyone looking to get to the next level in their career."

Jenn, HR Director, Easton PA
"When I started working with Emily I had over thirty years of work experience to rely on. After only a few sessions Emily gave me a gift… a tool box to use daily. The tool box has helped me find my internal compass that had always existed but which I had forgotten. Every day I use this gift."

Sam, Account Manager, Mendham NJ
"Emily's process had me gain clarity around what I really loved about my current position and what I did well. I also clearly saw where I was trying to fit a mold that just wasn't me. Emily's HR experience came in handy in helping me create a custom job description for myself. Then, she supported me with the push and acknowledgement I needed to unapologetically ask for it!"

Amanda, Financial Adviser, Philadelphia PA
"I was at a fork in the road in my career. Emily's skills in extracting what I really want out of life was exactly what I needed. She made the path of self-discovery very clear."

Jill, Clinical Director, Wayne NJ
"I came to Emily looking for help finding a new job. I walked away with a transformed relationship with myself and my life."

Joe, Business Analyst, Houston TX