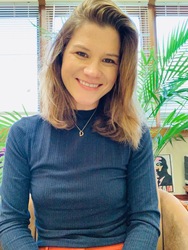 Emily Sussman

Granger, Indiana
Life Coach, Relationship Coach, Spirituality Coach
BA, LCSW
I coach men and women to walk through fear and self-doubt so they can claim a joyful, loving, and meaningful life that's 100% true to who they are.
About Me
My name is Emily, and I'm a coach. I'm also a mother, a therapist, a daughter, a friend, a writer, an artist, a recovering alcoholic, a constant work-in-progress… and an insatiable lover of life.
My own story is proof positive that it's possible to change for the better, and for good.
I spent decades fixated on my addictions as an escape from my anxieties, anger, and depression. I know all too well what it's like to live life halfway. I also know that our lives are only as big as what we believe about ourselves, our possibilities, and our worth.
As your coach, it's my job to help you break free from the limitations that have held you back, so you can live a life that's true to YOU.
"But what does that even mean?" you might be wondering to yourself.
Let me put it this way: Your true self already holds all the clues you'll need to discover what kind of life will bring you feelings of happiness, success, and fulfillment. Those are feelings no one will be able to take away from you, because YOU'VE created them.
That's great news when it comes to coaching, because there's no need to reinvent the wheel. Or, heaven forbid, to try to turn you into someone you're not. Your true self is already inside you…and it's dying to get out and express itself! That's why you're here, right?
Coaching is a process — so it has a flow. That flow will be carrying you to your glory, so it's essential that we keep it going. I can also tell you that fear, self-doubt, and uncertainty are the biggest blocks to achieving that flow.
That's why a road map can come in handy. I've developed a 12-step coaching curriculum that will help us progress as we navigate your discovery of who you are, and what you need and want.
Together, we'll chart a course that will make the absolute most of our coaching time together…so you can can finally walk the road of YOUR happy destiny.
Reviews
At first I was skeptical of whether coaching could benefit me. This skepticism was replaced with inspiration almost immediately after starting the coaching with Emily because I began seeing results in my life. Emily is brilliant in her ability to help me unlock valuable insights within myself. I also found her practical suggestions and tools incredibly helpful during my journey toward successfully achieving my goals and living my best life. I would highly recommend her as a coach!

Zach A.
The Smart Way To Find A Coach

1 Describe Your Goals

2 Get Matched

3 Free Consultations
Find My Ideal Coach Now