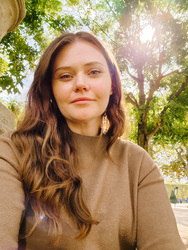 Emily Wood

Salt Lake City, Utah
Life Coach, Christian Coach, Business Coach
Nirmana Leadership and Coaching Academy
I coach those who are looking develop a better relationship with themselves and God.
About Me
I help people develop better relationships with themselves and with God (God of each individual's own understanding).
Building a better relationship with yourself is important for many reasons, let me mention a few of them.
First, it's the only guaranteed relationship you will have throughout your existence.
Second, external turmoil is more difficult to face if the internal turmoil hasn't been addressed.
Third, happiness and success always start from within.
Building a better relationship with God is important for similar reasons.
First, God is the one who truly can and has defined your value. If you don't have a relationship with God it's easy to let other people or yourself gauge your value. Which doesn't provide a solid foundation and becomes susceptible to varying circumstances.
Second, God is able to carry us through more than what we are able to handle on our own, and overcome things that seem impossible to do so. Alcoholics Anonymous has shown this well if you've heard about their process.
Third, building a relationship with God is inviting the Greatest Being in the universe to be a partner with you in your life. When you have a relationship with God you receive help in your good intentions to accomplish your dreams, and find lasting happiness.
I look forward to working with you in building these two vital relationships in your life.
More About Me
Completed my training at Nirmana Leadership and Coaching Academy
Over five years of experience in coaching and spiritual growth
Personal experience with hardships and learning to overcome them by working on my relationship with myself and my relationship with God
My Approach
- My clients are able to take coaching at the pace that best suits them and their life
- I provide a safe space where my clients are able to express, explore, and discover deeper feelings, and intentions
- I act as a guide and mentor to my clients by listening, reflecting, recommending and providing tools and techniques
Reviews
3 reviews (5.0)
Emily is so fantastic! She is kind, spiritual, intuitive, listens well and is inspired to know what to say and how to help. She has come so far in her own personal journey and has gained a ton of knowledge and revelation to share with others to help us learn to love ourselves and live fantastic lives! She has such great ideas to help process things and clear them from the subconscious. I have LOVED working with her. She has helped me so much. I have gotten more trusting of myself, gained more love for myself, let things go that were harming me and holding me back and I have built a better relationship with myself and with my God during the last several months with her. I have SO much progress to still make, but I know that with the help of Emily (and of course my Savior) we are well on our way to building me up to be the best and happiest version of me. THANK YOU Emily!!

Marie Morrey
Although she seemed young when we started working together, Emily has an extensive background of work experience and her assistance has been integral to my business' success. From helping with hiring, to writing training manuals, to talking me off the ledge, she has been an asset to me. allowing me to double my business each year since starting to work with her.

Kirsten Fox
Emily is a master in this realm of human thought and feeling. Her ability to listen, validate, and help me understand myself and my role in my circumstances has changed my life. We have been working together for over a year and our conversations have me trying to absorb as much as possible. She has given me priceless tools. My business, my marriage, my relationship with my children and my God have all transformed since the day we started working together. I cannot say enough good things about her work. I will be a life-long client.

Rachael