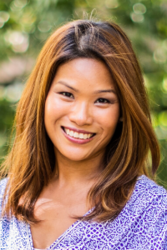 Life Coach, Career Coach, Relationship Coach
Certified NLP Somatic Coach, Certified Yoga & Meditation Teacher (RYS 300)
Do you want to explore your true potential and live the life of your dreams? I work with clients to dig deeply into what matters most, focus on strengths and achieve a life of abundance and purpose.
About Me
I know that life is often complicated and you are here today looking for support to work through challenging times, take control of your life and/or build the life that you've always dreamed of. You are tired of feeling stuck; you are no longer satisfied to just survive - you want to harness your strengths and thrive! You are looking for change and transformation.
Bring forth your true self
I believe everyone is born with the unique set of qualities and strengths that we need to be who we were meant to be in this lifetime. As your coach I will help you explore what makes you, YOU. You are not your parents, your culture or your society. You may not conform to all their beliefs because you are YOU and you can show up more impactful in this world when you accept all of your gifts and uniqueness.
Unique approach
Every person is on a unique journey and there is no one-size-fits-all approach and definition of success. I offer a unique approach to coaching that taps on the best resource you have to make the most important decisions of your life - your inner wisdom. Besides using neuro-linguistic programming (NLP) tools; I also apply mindfulness practices to help dig deep into your situations and help you be self equipped to take your goals to the next level.
True growth stems from the courage to be vulnerable
Through transformation and growth comes from the ability to be vulnerable. As your coach, I will always ensure you feel safe and that we approach topics at the pace you are comfortable with. I will listen without judgment and always take your best interest at heart. We will never venture into new or uncomfortable terrains without your permission.
A coach helps you to shine light on the most important matters and take steps towards long lasting transformation. If you are ready to take this step, drop me an enquiry to discuss how I can powerfully serve you on your transformation journey.
Reviews
2 reviews (5.0)
Working with Erlina has been an awakening. I really wasnt sure what to expect from a Life Coach so was very surprised after our first session how quickly Erlina helped me identify the root cause / small challenges that were holding me back in a big way. With Erlinas support we worked out an actionable plan that I felt positive about. After working on those goals a floodgate (a very positive one) opened! I feel empowered and confident. I see my potential and opportunities around me that I hadnt considered before working with Erlina. I strongly recommend Erlina as a coach to guide see your full potential in both your life and career.

Rachel Ashe
Firstly I have to say I wished I had a coach in my life years ago after my sessions with Erlina! Ive always thought I never needed one but how wrong was I. I didnt know what to expect or what I would discuss. Erlinas style and approach to helping me to open up is amazing. After ever session I left with so many ideas on what I needed to do and how to approach the issues I was facing. Thank you for helping me move forward in my career and life.

Simon Middleton