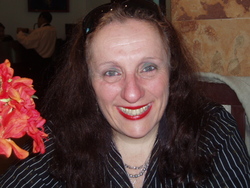 Esther Coronel de Iberkleid

La Paz, La Paz
Executive Coach, Leadership Coach, Business Coach
TFH, PKP, EFT, NLP Prac, NLP Master Prac, NLP Trainer
Are U Visionary Leader, Entrepreneur or Executive, w/a cloud in front of Ur eyes, unable to execute a project? I can help U develop a Strategic Plan to bring wealth to society from your global vision.
Details

La Paz, La Paz
Gender: Female
About Me
I am "The Clarity Mentor" and "LIFE CHANGING COACH".
I coach people that come to work with me to find their brilliance, discover their true and authentic purpose to achieve a fulfilled meaningful and happy daily life.
I offer Personalized EXECUTIVE COACHING to Visionary Leaders and Entrepreneurs that want to build a legacy with social impact that makes history! I help my clients develop the plan and strategy to be known, seen and heard in the global world to be remembered forever by delivering their own message that generates wealth and riches in society.
My Signature System Coaching Program is "THE MISSING LINK TO YOUR WEALTHY WORTHY LIFE" My activities are developed in: BUSINESS, EDUCATION and PERSONAL DEVELOPMENT. In each area, I offer specific "TOOLS FOR LIFE" toward CLARITY, CONFIDENCE AND SELF-ESTEEM to live a Prosperous Meaningful and Fulfilled DAILY LIFE, to achieve your goals.
I have post graduate studies in Chemistry and I also studied Alternative Energy Medicine having certificates in TFH (Touch for Health), PKP (Professional Kinesiology Practice), EFT (Emotional Freedom Techniques), NLP (Neuro Linguistc Programming), Life Coaching, Business Coaching, Social and Emotional Intelligence Coaching.
I integrate in my practice and sessions 35 years of experience in Business and Education (at all levels formal and non formal) together with Healing, blending them together to deliver in each session the tools you need to heal the past toward a successful future with a clear vision, a concrete plan and the strategy that will bring you to the results you want to achieve.
Your life has a purpose, you have a vision, you have a Mission and you have a Passion! It is time to "spice your life" with your own most pure ingredients to sense and discover the road to follow leading you to live your life to the fullest!
Remember your life is today and you deserve to live it the best you can from NOW. You are your own boss!
Reviews
10 reviews (5.0)
Thanks to you Esther I know everything is possible in life and sometimes we see with our eyes instead of with our heart how will the future be. You changed my life from the first session. I felt and feel energized, big and that I can do things I believed were literally impossible since a session with you is a change of Universe. A new reality where nothing is unreachable , where all is possible and especially WHERE THERE ARE NO LIMITS . Thank you

Sergio
As a teacher, as a client, and as a parent I would highly recommend Esther. She is excellent at what she does, always seeking to be the best, and is always well informed on new trends, changes or improvements there are in her field. I am convinced that whatever Esther begins, or whichever goals she sets for herself, she will always reach them and be the best at what she does. Astrid Denise Morgan Lima Perú

Astrid Denise Morgan, Peru
I had the pleasure and the privilege Esther was my children´s private teacher/tutor. Both waited anxiously to attend her classes and came back home happy after learning new things. Not only my children were recommended to her as students , also children from my friends. One pays the hour in Gold, since her classes have no price, due to the experience children receive from developing the pleasure of learning and logics. Macri Bastos. Mother and Clinic Psychologist Intercambios Culturales Bolivia

Macri
I met Esther Coronel de Iberkleid in a mastermind I facilitated with a group of women entrepreneurs who wanted to move their business forward. I was amazed at Esther's knowledge of business and how to become a super successful entrepreneur, yet live a great energized lifestyle. Esther's energy and clarity of purpose was a real asset to the group. When Esther spoke we all listened. Her insights in how to live a busy, yet balanced life was very inspiring to us all. Christina Scheiner http://RapidBusinessBuilding.com

Christina
Hi Esther, I Just want to thank you for the classes that you gave me. First of all, now I´m more organized when I´m studying and I can learn more in less time. More over i´m more secure when I´m doing my tests. So thank you again.

Alan, Brasil
Recommendations in my profile here http://www.linkedin.com/in/esthercoroneldeiberkleid

People in different countries
Business Coaching www.esthercoroneldeiberkleid.com/Testimonios-Audio-Esther/Rodrigo-Astorga-Mayo-4 -2011.wav

Rodrigo testimonial in Spanish
Life Coaching and Healing www.esthercoroneldeiberkleid.com/Testimonios-Audio-Esther/Sylvia-Montevideo-Julio-2010.wav

Sylvia testimonial in Spanish
Life Coaching and Healing www.esthercoroneldeiberkleid.com/Testimonios-Audio-Esther/Margarita-Montevideo-Julio-2010.wav

Margarita Testimonial in Spanish
Education, Career Coaching, written Testimonials in English and in Spanish http://learningaprendiendoconesther.blogspot.com/p/testimonios-de-alumnos-y-ex-alumnos.html

Students and Clients looking for Clarity Confidence and Self-esteem
The Smart Way To Find A Coach

1 Describe Your Goals

2 Get Matched

3 Free Consultations
Find My Ideal Coach Now