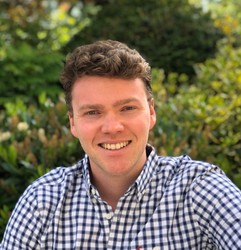 Euan Campbell

London, England
Career Coach, Performance Coach, Leadership Coach
Behaviour Change Psychologist, BA from Oxford University, CTI-trained Coach
I coach aspiring early-mid career professionals who long to find and flourish in an emotionally, intellectually and financially fulfilling career! Background: BA at Oxford University, Ex-Consultant
About Me
"This has been a pivotal moment in my career; with Euan's support I've transitioned to a new role taking on a wider remit equipped with the necessary confidence and resilience to be setup for success. Thank you, Euan, for your passion and dedication - it has been a remarkable process."
Jocylenne, Head of Transformation, Telecomms Company
"Working with Euan has accelerated my career progress and thinking by months if not years. I will certainly be having more sessions with Euan in the coming months."
Jason, Data Analytics Lead, Technology Company
WHO I COACH
Are you an early/mid career professional who...
- Longs to find an emotionally, intellectually and financially fulfilling career?
- Aspires to be in a leadership position at work or dreams of launching their own successful business?
- Wants to accelerate their career progress and realise more of their potential?
If you said YES to any or all of these, then you're in the right place.
For years, business leaders across the globe have used coaching to their advantage. But why should coaching be reserved for business leaders only?  Why shouldn't aspiring professionals be able to reap the rewards of coaching today?
That's why I got into coaching - to bring the power of coaching to a generation of aspiring future leaders.
WHAT I COACH
Though I am a "Career Coach", my coaching focuses on you as a whole person.  So though I may help you to "discover your ideal career path", for example, we address this topic with all of you in mind - your motivations, values, strengths, fears and unique qualities.
Career direction and change, resilience and confidence are my specialties, but we can address any question, topic or challenge together.
QUALIFICATIONS
- Professional Coach, trained with the Co-Active Training Institute (CTI)
- BA in Classics at the University of Oxford, The Queen's College
CAREER HISTORY
- Organisational Psychologist and Behaviour Change Consultant
- Strategy & Innovation Consultant
TRY IT
Reviews
3 reviews (5.0)
Euan I had the unique opportunity to define what my current role at work could look like in a year. This was incredibly exciting but also quite overwhelming. I had lots of ideas of what my perfect role might look like but was finding it really hard to translate that into something tangible. Over a 2-month period of weekly sessions with Euan, we deeply explored my values, motivators, fears, key strengths, skills and goals. Each session brought up new unexplored themes that we worked through together. Euan was able to provide the structure, space and the support that I needed to make some real breakthroughs and to gain clarity on what I really want from my career. Not only was I able to build a detailed description of the role I want but also have a plan in place for how to make that happen. We covered many other topics along the way that have left me feeling more confident in myself and more sure than ever about what I want to achieve both short term and long term. Working with Euan has accelerated my career progress and thinking by months if not years. I will certainly be having more sessions with Euan in the coming months. Jason, Data Analytics Lead, Technology Company

Jason
Professional coaching has been a phenomenal journey to self-discovery and encouragement. This has been a pivotal moment in my career; with Euans support Ive transitioned to a new role taking on a wider remit equipped with the necessary confidence and resilience to be setup for success. Thank you, Euan, for your passion and dedication - it has been a remarkable process. Jocelynne Thompson, Head of Transformation, London UK"

Jocelynne Thompson
As a confident self-starter, I struggled initially to see the value of coaching - what could a coach tell me about myself that I didn't already know? In response, Euan was patient and inquisitive. He led me through a number of structured exercises to help me define my core goals and uncovered a number of limiting beliefs preventing me achieving them. Our work together helped me establish a clarity of purpose which ultimately led to a successful career transition from the private to the public sector. I would strongly recommend anyone considering their career next steps to do the same. James, HM Treasury, London UK

James