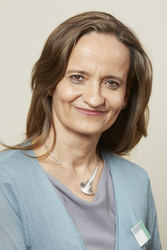 Eva Szekeres

New York, New York
Career Coach, Executive Coach, Leadership Coach
MA, Certified Professional Co-Active Coach, Columbia University Executive Coaching Certification, MBTI, Hogan, NBI practitioner
My main focus areas are leadership development, career transitions, communication, conflict resolution, emotional intelligence, interpersonal skills, women leaders, work life balance, stress reduction
About Me
Most of my clients are professional women and executives
- working in an international context
- concerned about their career (quitting, promotion, change)
- feel stuck, confused, stressed or out of balance
- need clarity to create a roadmap for the next phase of their career / life
- seeking more meaning, purpose
- ready for a professional / personal change
With my research based, carefully designed and tested career coaching program, we can explore your values, strengths, personality preferences, key motivators are to create a crystal clear picture of what your want out of your life and career by creating your Life and Work Stars.
By expanding the possibilities through your creativity, inner and external resources we dream up a number of new choices through your Ideas Bank.
Before we discover your top options, investigating them in depth and create a clear and realistic strategy to turn your vision into reality by identifying roadblocks and how to overcome them. All through inspiring exercises and engaging conversations.
Being at a crossroad is challenging but also opens you to the possibility of real change and development. You can take this opportunity to step back and clarify your thoughts about what is really important to you personally and professionally, to find more meaning, purpose and flow in your every day life.
Coaching provides a personal space and a structured way to rethink these topics with the help of a trained professional, an effective structure and inspiring tools.
Having lived in Hungary, France and the US, I have over 20 years of experience in the private sector and education - including Stanford, Harvard and INSEAD. I have a BA and an MA in History and Literature. I am a Certified Co-Active Coach (CTI), a Professional Certified Coach (ICF), an MBTI, Hogan, NBI practitioner and a graduate of the Columbia Executive Coaching Certification Program.
Call or email for a free 30 min consultation to find out more!
Reviews
14 reviews (5.0)
"I am very satisfied with my coaching experience. Eva is a high performing coach and helped me in many ways.She has a very pragmatic approach and at the same time is very encouraging and challenging.She has also a very good understanding of our organization, its culture and specificity which helps a lot. She is very accommodating and never short of her time: she makes herself available in between sessions if needed and provides ample reading and reflecting materials which I found particularly useful."

Claire L., Executive Director, Switzerland
"It was really great to have you as my coach and I enjoyed every session, even the more challenging (and slightly annoying :) ones. It was a great start of my journey of discovering myself and I can't thank you enough for helping me embark on that journey, not to mention your help in exploring my "edges". It is always great to work with you - the process is very energising and I am extremely pleased that we have accomplished what we set out to accomplish! Thanks again for all your support and for always being so positive and encouraging. I am very excited about my projects and look forward to starting in the new year. Great time for a new beginning :)"

Katia V., Writer, Switzerland
"Eva's coaching sessions and exercises have helped me gain the confidence and self-knowledge I needed in my approach to my personal and professional life. It came at a time when I could pause and reflect on where I was coming from, what I had already accomplished, whether I was happy or not with all of this; and most of all, by working on this reflection through the coaching sessions, I was able to build potential future scenarios and look positively to the future. The values exercise, ideal work & life, 90th birthday, future self, life & work stars, and many other tools, enabled me to put into words and reality "something" which we all can feel, intuitively, more or less, but which needs this coaching to be revealed, materialized and given life. Perhaps this is the essence of Eva's life coaching: powerful tools to shape our life Vision and purpose. And Eva does a fantastic job of guiding/facilitating/enabling this emergence of our life purpose & vision!"

Joanne T., Executive Assistant, Fontainebleau, France
"... after being let go of my job...I am now working 100% on my entrepreneurial project.  I have never felt that good and confident about myself professionally which is a really good feeling.... With the benefit of hindsight, being fired from my previous job is probably the best thing that happened as it was not the right place for me (although it was painful medicine). ... When you and I started to work together, I highlighted personal development as one area where I was weak and I am pleased to say that I have been able to read a lot, meet and network with lots of interesting people, study, become aware of mindfulness and to finally let go of my daily worries of not making it in life. I also agreed to accept my situation, be satisfied with what I have and to let go, stop worrying about the future and stop comparing myself to others. I realised I had been worrying since I was a child (despite having no pressure from my parents) and that this has not served me well in any way.  This has freed my mind from a lot of negative thoughts and garbage. And that I am giving my entrepreneurial project a real chance without worrying about the uncertainty. If it does not work out, I am confident I will find something....You accompanied me in the beginning of this process and gave me great tools and guidance which helped me tremendously to get back on my feet. So thank you. Really."

Sacha B., Investment Banker, UK
"I didn't imagine that coaching could be such an enriching and transforming experience when I signed up for it, but it really is; I am so grateful for the self knowledge and self-acceptance you've helped me to achieve. I never thought of myself as someone who would seek out a coach: I believe in doing , not just talking. Yet, I saw this year as a chance to explore career options, and I felt I would benefit from an extra push. In the end, my narrow expectations were far exceeded. Not only di I clarify what I want in the immediate future, I gained insight into my past and confidence about my priorities and abilities; People like Eva are precious and rare- an extremely thoughtful and curious listener, she's interested in experimenting and pushing limits, yet always attends to the other person's needs. Ultimately, it wasn't a question of talking or doing: in my experience with Eva, the two went hand-in-hand."

Phoebe S., Marketing and Media consultant, Israel
"I always wanted to experience taking coaching sessions. I liked the trial session with Eva and decided to go for it. After some sessions though, it turned out that my way of looking at the future and my possibilities in it, was blocking my personal development. It was then that I experienced how good a coach was for me. Eva was able to confront me with my fears and with a picture of how I was making my life difficult. She has basically told me to make a choice, go on with your life as you have always done it and remain feeling these negative feelings or decide to try to see how it can be if you change your view and start giving yourself and the future a chance. I did the latter and I am very happy I did. By being honest to myself I learned much more about myself and I was able to believe in my traits, my skills, my dreams. Right now I am busy developing my ideal job and I am using everything I learned during the coaching sessions as a starting point. In the past I was overwhelmed by thoughts, now I am able to structure them and narrow them down to just a few options."

Angela T., Financial Analyst, Singapore
"The best thing I did in Fontainebleau in the last 4 months has been seeing Eva Szekeres. She is a coach ( a very, very good one) and she helped me a lot to find my future job for 2012. She has a creative process that makes the sessions fun and interesting. I learnt a lot about myself ( she gives assignments and tests) and my husband was pleased to see that I was feeling very well thanks to that work I was doing. The sessions are in English, but Eva also speaks French. It's important to say that she is very honest so if she feels that you are not 100% motivated or convinced by a project, she will share that feeling with you. The most important thing to remember when you are hiring a coach is not to wait that the result would come from the coach. All the answers are in YOU and the coach is "only" a guide. The good point is that Eva - as a guide- is a wonderful one. She is very smart and can see things that you can't thanks to her experience. "

Julitte D., Marketing executive, Argentina
"Our time at INSEAD was not just an important moment of transition for my partner as an MBA student but for me as well as I began to transition from graduate study to the working world. Eva provided me with a structure to approach this difficult transition by helping me evaluate my career and family goals. She always had a variety of helpful tools at her disposal – exercises, written material and thought experiments. But I personally found her probing and provocative questioning to be the most useful tool for wrapping my mind around this period of change. Many INSEAD students and their partners spend a year living under a big question mark – or many big question marks. Coaching gave me a sense of empowerment in facing those uncertainties and provided me with positive ways to deal with some of my own mental habits that might have been holding me back. If you want to reevaluate your goals or are expecting to effect change in the near future, Eva's coaching is an excellent investment – and a true adventure with yourself."                                    

Allison M., Assistant Professor, Toronto, Canada
" In 2006, I had a fantastic coaching experience with Eva. Few weeks ago, I went back to my coaching notes to prepare for some interviews. Looking back at them, I realized how powerful and insightful the outcome of the coaching was. My values, my strengths and what I really wanted from life were written there in a very structured way. It did help me a lot to prepare and be ready to talk about myself during the interviews."                                       

Veronique S., Senior manager, Paris, France
 "Initially I heard about the life coaching and thought it sounded kind of new age and a little quirky. Not really for me. But I went to find out a little more about it just to fulfil my curiosity. The year in Fontainebleau for me was a year of learning and evaluation. I wanted to take a look at my life on a broader level, and working out what I am aiming for. Both regarding career and personal life.  Life Coaching with Eva was very beneficial. It helped me put some structure into the process of discovering what I want in the future. I found it refreshing in that it looked forward, helping me recognise opportunities that I can take advantage of. The process enabled me to put some clear building blocks in my life for the next few years. Plus it taught me how to evaluate my situation so that if I am looking for change or redirection in the future I know how to do this.  It has been well worth the experience, time and money."                 

Emily S.-K., Entrepreneur, London, UK
"I did the career coaching program - FireWork - as I was questioning whether I was in the right career for me and I wanted to make the most of any career path I would decide to follow. Career coaching allowed me to do a very deep self assessment and identify clearly what I was looking for in a career and how I would reconcile that with my values, motivators, life expectations etc. Eva, by always having the appropriate questions and innovative suggestions, opened my eyes, helped me think differently sometimes and take a different perspective when needed.  Coaching is not only about thinking, but it is about going deeper in your thoughts and feelings, being proactive in your life and taking the necessary actions to implement any plan you make to reach your goals. I strongly feel that coaching can take you to places you would not have visited by yourself and therefore make you grow as an individual.  I must say that since I started coaching, I feel I have much better tools to continue my reflexion about my career. This is a life journey that will require patience, introspection, proactivity and sometimes flexibility. However, I know much better now what I want and how I can bring it to my life. Coaching gave me a very solid base with the valuable self-assessment Eva helped me to perform and it gave me the courage to take any action I may need to take to reach my goal. I'm thankful for our paths to have crossed each other...Thanks!"                                    

Patricia G., Lawyer; Montreal, Canada
"Before I met Eva, I felt as if I had an enormous mess of thoughts, ideas, ambitions, interests etc., in my head. First, Eva helped me creating order in that chaos. Then, with lots of different exercises, we worked on finding out what it was exactly that was most important to me. I wanted to have a better idea of what I want out of life for myself, what sort of job and what kind of life would make me feel happy, proud and fulfilled. It proved to be successful. Not only do I have a much better view and idea of what I want, I also have a very clear idea of WHY I want it - which will be really helpful during job interviews for example. Also, I know a lot better what I don't want which is a good thing, too! Apart from that, every meeting with Eva has been very pleasant, she's a great person to work with!"                                     

Jenneke V.W., Teacher, Netherlands
I have had an extremely positive and productive coaching experience with Eva who helped me determine a clearer path towards the achievement of my personal goals and particularly, my desired career. I thought of talking to Eva at a time when my job was becoming a chore and I was looking for ways in which to do something more meaningful and appropriate for my skills and personality. But we rarely are aware of what is meaningful to us and what are those right environments where we would truly bloom. And I think coaching with Eva is perfect in that very direction - determining precisely what is right for you as an individual, which of your skills you would really want to develop and make use of, and getting to the essence of your real priorities. With Eva's help, I managed to find the appropriate arguments to quit a toxic job, to have the courage to study and take on a position in a field that gives me incredible energy and entices me the way a job really should. Eva's unique approach doesn't just provide a structure to know yourself better - it ensures that all your important future decisions are built on an awareness of your personality traits, your strengths, but also the things that you are passionate about and really drive you. This has already proven extremely helpful in a few job interviews I've had and in getting my current job, as well as in building relationships with my friends and work colleagues. Eva has incredibly efficient tools to guide you in a journey of self-discovery and can bring just the right arguments to help you see things from a completely different perspective. Thanks to her, I gained the confidence to make major changes in my life that I'm truly proud of!

Ina C. Analyst, London, UK
"I came in Fontainebleau with my partner in December. I was pregnant and the first six months of INSEAD, I was really busy with my daughter. But, after the summer break, it was time for me to clearly define what I wanted to do after the year in Fontainebleau. I used to be a material engineer in Oil & Gas Industry and the only thing I knew was "I don't want to go back to a technical job again". But I was totally lost with what I would want to do, and with what I had to begin with. So, I decided to look for something which would help me to know myself better first, then to fix a goal and perhaps, find my future ideal job! I heard about Eva through the INSEAD community. Eva gave me a precious help. As a Cartesian, I have to confess that coaching was a little bit mysterious for me. But Eva, who really well understood my fears and my need of "concrete things", explained me the different steps, from what we would begin with and where we would go. Each session was different and I learnt something new about myself each time. You feel very confident with Eva; she knows how to adjust the work according to your personality and the goal you want to achieve. The fact is that I found my ideal job! But it also helped me to define the goals in life in general. For me, the year at INSEAD should be a year for the partner too and going through a coaching process is an excellent investment if you have questions about your future career or future life in general!"                                  

Aurelie G., Material Engineer, Fontainebleau, France
The Smart Way To Find A Coach

1 Describe Your Goals

2 Get Matched

3 Free Consultations
Find My Ideal Coach Now