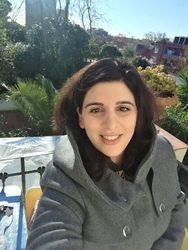 Farah Radwan

Tel Aviv, Tel Aviv
Career Coach, Relationship Coach, Life Coach
PhD, Train the trainer 555 coaching skills
I help my clients finding home with in themselves. Recognize their strength and talents and identify their roadlocks. I help my clients in starting new beginings or transitioning professionally.
About Me
I have spent most of my life in academia, I hold a Ph.D in chemistry and I currently work as a university professor. I am fortunate to be doing what I love. I am passionate about sharing people's journey in reaching their "home". It was my affection towards making a difference that counts that lead me to coaching.
I am currently an Associate Certified Coach with the International Coach Federation.
I have lived, studied and worked in different countries. In addition, I held both academic and executive administrative positions. I have also experienced both cultural and professional transitions.
I will be delighted to share your new venture and exploration of your desired destination.
​
Reviews
Loads and loads of questions that never even occurred to my mind, and every answer takes us to a new loads of questions that when I answered I came to realize exactly what was wrong. It is so easier to solve a problem when you know the exact cause of it. That's what Farah helped me find. Thanks to her, I feel more like I'm on a safe ground now!

Reema M.