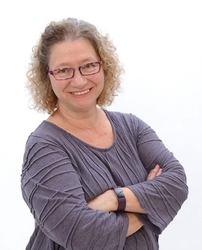 Fausta Luchini

Savannah, Georgia
Life Coach, Leadership Coach, Entrepreneurship Coach
Whole Person Certified Coach
Feel like you take care of everyone else but don't practice your own self care? Overwhelmed and burning out? Together, we'll find practical ways to reduce your stress, add balance, and increase joy.
About Me
I coach people who are trying to make a difference in the world, People who bring their heart to the work they do and the people they care about. Are you juggling the demands of work and home, trying to take care of everyone else? Wake up at 2 a.m. worried about other people? Know you need self-care, but don't have time for all that? I can help you find space for yourself.
I don't have your answers - your journey is unique. But I have some maps and I know how to get around the pitfalls and quagmires along the way. I know the questions to ask and the tools you need to uncover your own answers. Not just a new list of things to do, but real solutions. Together, we can figure out what's right for you.
You may feel less stressed and overwhelmed with tools on how to:
~ Identify and challenge limited thinking patterns
~ Manage difficult emotions
~ Align your values, thoughts, beliefs, and actions
~ Explore your archetypes to impact your choices
~ Use self-compassion and mindfulness to center and balance yourself
~ Understand motivation and manage it more effectively
~ Overcome perfectionism and unblock your creativity
~ Create sustainable self-care habits
I became a Whole Person Certified Coach in December, 2018, bringing over 20 years experience as a therapist to my coaching practice. With a Masters degree in Psychology, thousands of hours of clinical experience, and certification as a Whole Person Coach, I know that the answer doesn't come in a box – it isn't just a toolkit or a technique, although those things can be super helpful. But each person has to create their own, unique combination of ways that work. It's your journey – no one else can give you your answers.
I became a coach because I want to walk with you on that journey. If you're stressed and overwhelmed, I want you to be able to feel balanced and have a sense of ease. I want you to be able to add more joy to your life and truly thrive.
Reviews
2 reviews (5.0)
Fausta came at just the right time with exactly the right questions. She helped me to focus in on what I wanted, and with her warm, sincere approach, she helped me to quickly achieve one goal after the other. I appreciated the opportunity to coach with Fausta. It was worthwhile and rewarding.

Dawn
Working with Fausta has been a pleasure. She is an incredibly warm and empathetic listener who brings a genuine curiosity to her work. I especially appreciate her ability to step into my perspective and stay with me as I search for solutions that work for me. She's helped me keep commitments to myself and to advance on projects that are important to me. I'm reassured by her solid expertise as a trauma therapist of many years, and I am grateful for her wise presence in my life.

AN