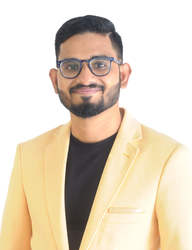 FAZulul Rahman

Dubai, Dubai
Business Coach, Life Coach, Entrepreneurship Coach
Someone who is super ambitious to take their business to the next level. Someone who wants clarity in life and to live life powerfully. Anyone who wants performance else money-back guarantee.
About Me
A humble human being, who has seen a lot of challenges in life and became SUPER resilient.
I read the equivalent of around 50 books a year. I used to work 16 hours a day for 365 days a year for the past 12 years. But now, I work around 14 hours a day and for 6 days a week. I take awesome 30 days vacations. I have the best wife and a beautiful daughter. Have an amazing personal life around my wife, kid, parents, siblings, and in-laws. A published author, founder of a successful digital marketing agency. Postgraduate and a master's in Yoga.
ONE OF A KIND, very rare to find a person like me. You will instantly like me. I relate to people empathetically and support them.
If you don't get value from me, I will give you 100% money back. It's my personal promise.
I have coached 100's of businesses and individuals and helped them achieve their dream life.
I am a practitioner of Psychology and Ontology.
hey, ping me let's talk.
Reviews
FAZulul doesn't have any reviews yet.