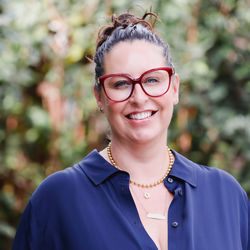 Felicia Kashevaroff

Santa Barbara, California
Relationship Coach, Family Coach, Life Coach
BA, Evidence-Based Coaching Certificate, Small Group Facilitator, ORSC Fundamentals
We want to be amazing partners, but the demands of modern life can leave us scattered and frustrated. I coach clients who want to improve the balance in their homes. Let's dig in together.
About Me
Are you tired of fighting about cleaning out the dishwasher? Do you feel like you're constantly thinking about what needs to be done while your partner asks you, "how can I help?" Would you like to reach a point where both of you know what the household needs to run successfully?
Couples often feel their inability to find common ground is a personal failing - like they're missing something obvious. The truth is this breakdown is a systemic issue requiring a systemic solution. We bring many assumptions into our partnerships that don't necessarily serve our needs and values.
My solution-focused coaching program is designed to build effective systems that help you enjoy more of what matters. I don't believe in universal solutions. I begin at the beginning and learn about your why. Exploring the stories and beliefs around your relationship to household management and partnership, I focus on your unique situation, identifying and illuminating your strengths and sticking points.
Together, we paint a picture of your ideally balanced life and clarify the steps to get there. I utilize simple behavioral changes, accountability structures, and incremental incentives to help you cultivate the momentum needed for lasting change.
I am obsessed with understanding healthy relationship dynamics. My experience with an imbalanced household and my social science background led me to research science-backed solutions to household dynamics. My greatest desire is to help couples avoid the frustration and resentment that grows over time and poisons a relationship.
I believe in a solutions-focused, non-judgmental approach, honoring your relationship at the core. I'm trained as an evidence-based coach and have additional training in the Gottman method, Organization and Relationships Systems Coaching (ORSC), small group facilitation, conflict resolution, and I have familiarity with various household organization tools, like Fair Play and Equal Partners.
Reviews
2 reviews (5.0)
Felicia listens in a way most people don't. She creates a calm and comforting space where I feel free to unload whatever I need to work on without fear that she will judge my goals or the times I don't manage to get as far as I wanted between sessions. When I began coaching I thought it was more of a person to exchange check lists with. Now I understand coaching is about moving from doing okay to doing what I actually feel proud of and Felicia helped me understand that. We are still working together and I continue to recommend her to my friends, especially my friends who are doing too much and feeling as if their lives aren't heading in the direction they want.

Jane T.
Felicia is completely dialed in to helping me recognize my personal growth in ways I have not experienced before. She affords me the space and the grace to see myself with a clear lens with the utmost empathy and compassion. Her support and unique perspective feel both empowering and like a warm hug. Each week, I look forward to what we will uncover together that will propel me forward on my journey of self-love and self-discovery. I have and will continue to work with her and recommend her to friends and family.

Ashley S.