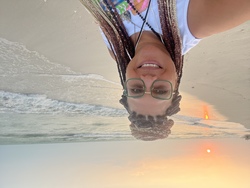 Fernanda Rodriguez

London, Ontario
Life Coach, Spirituality Coach
Mindfulness master practitioner, Counselor practitioner
Hi, I am a mindfulness coach. I help my clients connect with Their intuitive Selves through meditation, Tarot & energetic healing.
About Me
​Hola, I am Fernanda Rodriguez; I am a mindfulness Coach. I will tell you a bit about me; In 2019, I had to reinvent myself. This crisis allows me to begin my healing journey. I took the opportunity to work on myself, so I asked for help from coaches, counsellors and lightworkers. I went to school and did the work, the healing, the tears, the grounding, the reading of self-improvement books, energy healing, oracle, affirmation cards, guided meditations, and journaling. Etc.
Today I would say I have found my voice. I have learned to trust my intuition; I know who I am, trust who I am, love who I am, and am ready to teach and guide others with what I have learned.
-Are You Interested in listening to your inner voice? And learn how to grow intuitively. Let's Connect; I Am the advisor you need because I have been there where You are Today.
Life loves you.
Fernanda.
Reviews
3 reviews (5.0)
Fernanda has a knack of getting to the root of an issue quickly and helps create a realistic and achievable path forward. I'd highly recommend having a chat to her about any life questions.

Steve Dovey
I had a few mindfulness coaching sessions with Fernanda and that process helped me a lot in connecting with my inner child, letting go of the past, balancing emotions. Fernanda brought very calm energy to our conversation. Thank you, Fernanda.

Thao Phuong
Fernanda is kind, empathic, a very good listener, she was able to quickly assess my current goal, needs & aspirations and work with me to put a plan in place. She has helped me get a "clear picture" of what I want to do regarding my goal and even got me into commiting to specific actions in order to achieve it.

Kinga C.