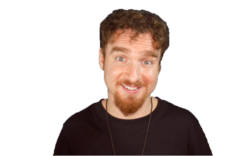 Life Coach, Career Coach, Spirituality Coach
LLB, LPC
I'm an Identity Coach. I help people who are struggling with an 'identity crisis', people who want to know who they are. If you feel lost, stuck, confused... or you seek purpose in life... I can help.
About Me
I'm a Professional Identity Coach. I help people to reconnect, rediscover, and recreate their identities from the inside out. I take my responsibility to you very seriously, and I never hold back or try to be mysterious – I give you all the tools to transform yourself.
I don't put people in a box, so my coaching is not pre-packaged. I offer a personalized service based on who you are - that means I really listen to what you need and we begin there, rather than trying to convince you that you need something I already made.
I've developed a unique coaching approach based on how I've transformed my own identity and how I've helped others with theirs. My approach involves using discussion, deep questions, stories, visualizations, contemplations, creative exercises, movies, and art. Creativity is at the heart of identity, so we will definitely use that in our work together.
A warning: this work can be fun, but it may not always be easy. People can have more fear of learning about themselves than anything else. And there will be assignments and exercises between our sessions. But if you're willing to put the work into 'Identity Work', you absolutely can transcend the limited perspectives you have of yourself (or even the lack of perspective you have of yourself), and transform from within into a human being with deep clarity, authenticity, integrity, strength, and character.
I'm an Associate Practitioner of NLP, certified by the American Board of NLP. I also have certifications as a Professional Life Coach, Transformation Coach, Life Purpose Coach, Life Story Coach, Mindfulness Coach, Hypnotherapy Coach, and in Coaching with Therapeutic Art.
If you want to really understand who you are at a deep level, to have clarity about your identity and purpose and direction in life... then I can't wait to meet you.
Reviews
2 reviews (1 verified) (5.0)
Gabriel is a great listener, he remembers what you say & helps you to explore ideas. I felt comfortable speaking to Gabriel & testing the techniques he recommended. I would recommend Gabriel & definitely contact him again in the future if needed.

Jessica
One big result of this coaching program involved taking steps to interrupt negative thought and feeling loops that can become problematic over longer periods of time. Taking a step back to peer into and sometimes question my assumptions really helps clear my head and re-focus me. One of the nice things about Gabriels coaching program were his visualization exercises, which involve clarifying who I am and what Im about. By engaging in these thought experiments, I was able to shed light into some of my latent dreams and ambitions.

Benjamin Liu