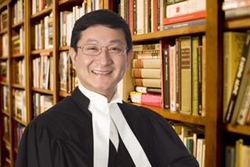 George Lee

Vancouver, British Columbia
Life Coach, Relationship Coach, Career Coach
MA, Attorney, Certified Hypnotist, NLP Practitioner, Family Mediator, Motivational Speaker
I coach clients, including lawyers, doctors, and businesspersons, who are suffering setbacks in life, relationship, or career and desire to achieve peace, health, and success.
About Me
George Lee, Esq. has a great passion to help people resolve legal, emotional and life issues. As a successful attorney, he has been in and out of courtrooms fighting for justice for about two decades. As an accredited family law mediator, he motivates families to resolve their separation and divorce issues through amicable compromise.
Outside his legal career, George is also a Transformational coach. For many years, he has been passionate about inspiring clients to discover greatness from within, and to fulfil their life purpose and dreams.
In addition to a Juris Doctor degree from the University of Victoria in Canada, George earned a master's degree in English Literature. However, his learning journey never stopped there. He has continued to pursue studies in Life Coaching, Hypnotism, NLP, psychology, and spirituality. For many years, George learned from top leaders in the personal development field, including Richard Bandler, Tony Robbins, Brian Tracy, and Jack Canfield.
In recent years, George has created and practiced a system he coined as S.W.I.F.T. Transformation™ Coaching that involves the integration of five modalities, including Sense, Word, Imagination, Faith, and Thought. He coaches clients to practice the five transformational steps to effect changes in their subconscious mind.
George is in the process of finalizing his manuscript of his new book, tentatively entitled Be Transformed: Unveil Divine Secrets and Reclaim Your Super Powers. His next task is to ensure his new book is published soon.
George speaks fluent Chinese, and as such, his clientele spreads into Asia as well. He lives in Vancouver, Canada with his wife and children.
Reviews
George doesn't have any reviews yet.