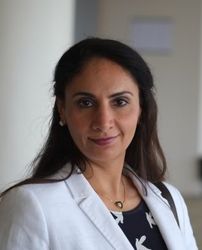 Ghadah Angawi Hamden, Connecticut
Leadership Coach, Team Coach, Performance Coach
BA, MS, PhD, PhD Leadership, Certified Cultural Quotient Center (CQC) Advanced, EQ Assessor with 6Seconds, Master Neuro Linguistic Programming NLP Coach
I help leaders who are struggling between work demands and effective communication. I help them understand the culture and people's needs so they can strike that balance in performance.
About Me
Do you feel that you are managing instead of leading? Do you want to inspire, motivate and help poeple perform? Do you find it difficult to express yourself or help others navigate their own emotions to solve a problem, overcome a barrier and make a decision? Does culture have its weight on your communication forcing you to shift and forming barriers?
Perhaps these cultural barriers are a result of an organizational merger or acquisition? or a maybe you have been promoted to higher level of leadership which involved teams of poeple? Or maybe you are dealing with multi-cultural teams? Or have an international presence elsewhere that need a new communication strategy? Or have moved or relocated in a new role.
- I help leaders at all levels draft a communication strategy and lead teams successfully in any culture.
- I help leaders in transition or who are leading a transformation.
- I help stressed out leaders find balance and prioritize in the midst of change.
- I help leaders in cross cultural environment effectively communicate and deliver.
My belief is the challenges we face stem from our communication style and our ability to connect with others. The spirit of leadership lies in our intentions and how we articulate ourselves and help others navigate their emotions and thoughts. Understanding cultural challenges is a big part of the communication. My clients find my sessions transcending and life changing. The skills they take away goes far beyond work to other areas of their lives.

I have coached many leaders from different nationalities across the globe over the past 18 years. My own story of cultural adaptation and success contains my power tools. I am a certified leadership intercultural communication coach, and author. My PhD is in strategic leadership behavioral roles and I am a certified cultural intelligence CQ and emotional intelligence EQ.
I offer a free 45 minute consultation, give me a call today to get started.
Reviews
Ghadah has 12 reviews.
Ghada is really coaching with compassion and she brought me a lot of value in my life present and future. it was also a great intercultural coaching experience which is always interesting for an expat like me.

Frederic Vereecke, Business Start Up Expert and Coach, China.
it was a good experience to be coached by someone in a different sector as this provided an excellent different perspective. Ghada was an excellent coach with great listening skills. During our coaching she used observations and research to elicit "aha' moments.

Sharon Post, A Team Leader, Sydney, Australia
Personally these sessions gave me good opportunities to reflect on my goals in relation to building confidence in a few key areas.   It was wonderful to have a sounding board as I experimented!

Jan Anderson-Muir, Academia, Executive, Government, HR, Recruitment & Training, Melbourne, Austalia
Ghada is an extremely talented and inspiring coach. Ghada is authentic and truly cares about her clients.

Pamela DeLise, CEO and founder of Cardinal Rules Consulting, LLC
At the beginning I wasn't convinced by the solutions based on training & development. The very quick positive results with the talented coach Dr. Angawi really changed this idea completely.

Mohammad Mahdi, Architect, Egypt
Ghada Angawi coached me on issues of leadership in order for me to be more effective. She used a tool to help me understand my own tendencies and what aspects of myself I rely on. The focus was on using my strengths while being aware of other perspectives which could expand my understanding and impact on others.

Dina Markind, ACC, founder of Heart of Well-Being, coaching burnout to well-being immediate past president of ICF-CT
Ghada brings wisdom, warmth and a generous spirit to her work as a coach. She believes passionately in an individual's ability to continually grow to reach their greater potential, and she establishes a strong connection with her clients to support and work with them to help facilitate this journey. It was a great pleasure having Ghada as my coach, I found her to be inspiring and encouraging. Our sessions made a significant impact on my gaining insights about myself on how to effectively work through the issues at hand.

Kelli Elmer, Coach, Trainer and Business Developer, UK
I can confirm that Ghada Angawi delivered an Subject Matter Expert session on the United Arab Emirates for Cartus in May of 2017. It was delivered to a group of individuals from the US who are working with Emirati nationals.

Diane Mullen | Manager, Intercultural Academy Cartus Intercultural & Language Solutions.
Ghada's insights and thought-provoking Coaching proved to assist in thinking at a higher level. She helped shed light on some areas of my work/personal life that I may not have otherwise realized on my own. For that I am grateful.

Aya Fisher Global Marketing Head for a Brand Experiences company, Dubai UAE
Dr Ghada Angawi had taught me many techniques to help me achieve my goals efficiently. It is amazing to see how simple exercises can affect your life greatly. I personally think she is very professional and efficient. I am able to apply her techniques in many aspects in my life .

Jameela Baroody Jewellery making, Qatar
Being coached with Dr. Ghada on my career and life has helped me a lot. I can say that now I am aware of my abilities and the right way to do things. My mother says I am focused, which wasn't like this before. I was in a very confused period of my life. I highly recommend her and sure she will add something to you as she did to me.

Noran, a starting interior designer.
Working with Ghada Angawi was a pleasure. As a coach myself, I know the value of having someone to help me think outside of the box, Ghada did just that. Her questions were clear and her support was evident. She helped me to redirect my work activities in a manner that makes great sense. I would recommend Ghada to anyone looking for clarity, direction, new ideas, and a good coach!

Leslie Mizerak, Executive Coach