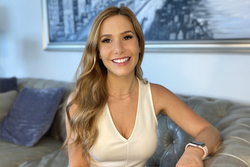 Giulia Fiore

Sydney, New South Wales
Life Coach, Relationship Coach, Performance Coach
BA, Bachelor's degree in Counselling Coaching, Diploma Diploma of Counselling (CHC51015) , Bachelor of Arts in Public Relations and Marketing Management.
Most of my clients are men aged between 20 and 45 experiencing a wide range of difficulties including anxiety, lack of motivation and low mood. I help clients set and achieve exciting goals.
About Me
My name is Giulia Fiore, and I am a certified counsellor and coach working in Sydney (Australia). I am passionate about helping others achieve their goals and improve their mental health. Interested in developing the most effective skills to bring upon change, I studied a diploma in counselling and a Bachelor's degree in Counselling Coaching. I now have an extensive toolbox of techniques from different therapeutic approaches to help my clients obtain results faster.
I offer individuals my counselling services and three types of coaching: Relationship coaching, performance coaching and life coaching.
Relationship coaching is commonly referred to as 'dating coaching'. It is directed at helping men understand their values, what they would like in a partner and romantic relationship and who they need to be in order to reach their desires.
Performance coaching is all about increasing productivity in order to achieve more in a professional career. Skills-building with this type of coaching is about increasing and maintaining focus, reaching and sustaining optimal performance, prioritising, effectively delegating, and managing time successfully.
Life coaching is for individuals who want to change and address different areas of life. Whether it be their health, career, or relationships, life coaching can help clarify what is important and the best simple steps to achieve desired outcomes.
I also organise different workshops and webinars on diverse topics to help people socialise and learn useful information. For businesses, I provide workplace coaching and executive coaching. Workplace coaching involves non-executive employees in activities to improve team-bonding, performance and mental health. When providing executive coaching, I help employees in managerial positions to perform at their best in their role.
Learn more about my services on my website.
Reviews
Giulia doesn't have any reviews yet.