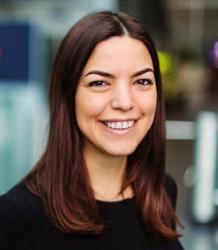 GIULIA VILLIRILLI

Turin, Piedmont
Leadership Coach, Business Coach, Performance Coach
MBA
Leaders that need support in overcoming inertia; Leaders that want to be a living inspiration, by: *achieving more clarity and focus *navigating uncertainties *facing fears *empowering others ...
About Me
As a coach, I help my clients break through their plateau and be a living inspiration. For courage and resilience can be trained, experiences can be made, results can be achieved and our lives and dreams can be fulfilled.
I have always believed in long-term investments and in taking the most rewarding path. Whenever I saw something that could bring me to my better self, no matter how difficult or challenging or strange it was, I chose to embark on the journey and took all the necessary steps.
I do this job with heart and soul and I truly love every single coaching relationship. It is not easy to find the words to describe the profound happiness and satisfaction I feel when I see a wonderful human being reaching their goal or vulnerably going through a transformation. Whenever this happens, a huge smile surges spontaneously on my face, and on that of my client as well.
My motivation to coach stems from my desire to be an instrument and support as many individuals as possible to flourish and express the potential that lies within each one. My life will have meaning if I succeed in helping people make what seems impossible become possible, without settling for less than they deserve. I believe in continuous improvement and that we must put in the hard work, to leave a mark on this earth, in whatever way and range we can. Coaching is my way to achieve this and I hope my call to courage and action will reach many hearts out there.
A coaching relationship is a space for introspection, action and growth. If you want to know more, contact me :)
Reviews
6 reviews (4.83)
I had the pleasure of meeting Giulia last year. Since then we had weekly online sessions over several months and I have always been so impressed by Giulias positive energy and attitude and by her ability to connect at different levels, despite the physical distance and different time zone. It was very easy for me to build a trustful rapport with her thanks to her empathy and professionalism. She is an amazing coach with a strong enthusiasm for it. She is a reliable and supportive person and a great listener. When you engage in a coaching conversation with her, Giulia has a sharp ability to ask such powerful questions to develop your awareness, challenge your assumptions and deliver a real impact. Giulia is a competent and passionate professional. I really recommend her if you are looking forward to moving into action.

Katia Melazzi, President Tabitha Foundation (Singapore)
Giulia supports clients to be bold, find their inner courage to take the step forward with a clear action plan.

Doris Bisaro
I had the pleasure of having Giulia Villirilli as my coach. During our coaching relationship, she stood beside me with her unique energy, and I highly benefited from her trust in me when I had to negotiate on professional and financial topics. I was encouraged to go deep on my limiting beliefs and adopt small but consistent strategies that made me more confident. She patiently helped me take steps to discover that negotiation is feasible and sometimes even fun!. I highly recommend Giulia to the ones who are looking for a gently direct and action-oriented coach.

Elena Carella
Giulia is an excellent listener able to offer clients a positive, non-judgemental space to re-focus on their goals. In Giulia I found an incredible partner to find creative ways to achieve my objectives. Though our sessions were virtual, her amazing presence allowed us to immediately connect and create a productive partnership. Giulia is supportive, non -judgmental and focuses on your needs completely while being goal oriented and able to work with you step by step to achieve your objectives. Giulia is a great coach for business, transitions and generally for anyone willing to be challenged to continuously improve!" Alessandra, Director - Switzerland

Alessandra
Giulia is an outstanding coach, who has get right to the underlying issues that have kept me from achieving my goals. I would highly recommend her to anyone who is feeling stuck, or needs a good accountability partner. Her background in business also helps her to relate to some of the issues I am dealing with at work. I hope to continue working with Giulia into the future.

Matthew H.
Giulia is an amazing coach! She is deeply thoughtful; has amazing insights into what I tell her; and has a fantastic memory, so that topics I brought up in the past are made relevant to whatever we're discussing at the moment. Giulia has helped me to shift perspective on many occasions, and her observations always help me to formulate plans that are hugely beneficial. I look forward to continuing being coached by her, and I recommend her 100%.

Michael C