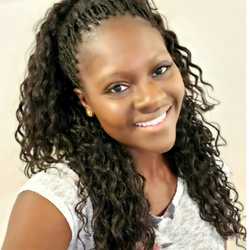 Gloria Brathwaite

Edmonton, Alberta
Life Coach, Spirituality Coach, Career Coach
I provide coaching services to help women slow down, (re)discover themselves and create beautiful lives that feel aligned, whole and right.
About Me
Hi, My name is Gloria!
I am a Certified Women's Health and Life Coach.
I help women Grow and EVOLVE into the best version of themselves.
My mission is to truly connect with women who are going through different stages of life and working together through the ups and downs that will come along the way. I believe in supporting women with taking control of their body and life so that their mind can feel strong, healthy, aligned, and whole.
TOGETHER we will work on any (or all) of the following:
-Finding the balance in your life to be an incredible woman, mother, partner, and/or business woman etc. while having time to nourish yourself.
-Helping you create a clear roadmap for how you can be present-centered and "in the moment.
-Helping you identify your core values, talents, and skills and living in alignment with them.
- Supporting you to let go of your limiting beliefs and replace them with empowering beliefs.
-Creating a strong, resilient, and positive mindset.
Supporting you to enhance your spiritual journey.
-Supporting you to manage and reduce stress.
-Helping you to take back control of your life in confidence.
-Finding more calmness, ease, and trust in your life.
Book a free 30 minutes consultation to see if you would be a great fit for my program and prepare both of us for the area's you would like to focus on during our sessions.
Reviews
2 reviews (5.0)
My experience with Gloria has been wonderful & encouraging and always turns my attitude even more positive and uplifting after I am finished a session with her! I have been given some great tools to apply to my every day life and strategies I may not have thought up myself. She has introduced some positive steps to healing and a healthier lifestyle overall for me. The best part of our session is the beginning when we pray before we begin our time, it really makes all the difference. As Gloria & I agree and allowing God to lead our conversation naturally, I feel such a sense of freedom & joy, so our time starts positive with such an effective finish!

Camille Alexander
Working with Gloria after the birth of my first child has been amazing. Goals were set together with personalized information, only working on what I truly needed. I was encouraged, assisted and guided to meet my goals. She gets where a new mom is coming from and makes me remember how important it is to care for me along with my family.

Debra Mawson