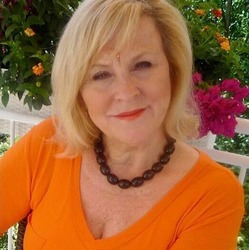 Gloria Bartel

Vancouver, British Columbia
Life Coach, Relationship Coach, Health and Fitness Coach
Certified Raw Food Chef
Gloria Bartel is an international life, relationship and health coach based in Vancouver, Canada. Gloria works with clients to transform their lives inside and out. Health is your greatest Wealth!
Details

Vancouver, British Columbia V6M 1Y4
Send Message
Gender: Female
About Me
Do you feel tired, exhausted from not achieving the possibilities in your life? Have you come to a crossroads in your career, health & relationships?
I believe you are that successful being, and you want so much to re-energize, to regain your confidence, your health, regain your strength, attract healthy relationships and to master your own life and stop living other people's lives but your own.
• I help clients like you who are facing challenging situations in their lives, in their careers, in their health, in their fitness relationship struggles which are causing feelings of inadequacy, inner turmoil, low self esteem and lack of self motivation. My strongest desire is to help turn around these feelings of low energy and assist clients to regain their sense of purpose, sense of desire, sense of love, including self love, and their sense of well-being.
• My promise to you is that I will fully commit to help you get through these crossroads and figure out what direction you want to take in life to live that one and only delicious , masterful life you were always meant to live since your inception into this large chaotic world you were born into.
• I will help you achieve authentic new confidence in yourself so you will see the possibilities for your life while holding you in a realm of peace and creating the abundant life you have always wanted and were always meant to have.
I will be your guide. My strong belief is that we have all the answers we are seeking for inside of us. My coaching process focuses on three main areas: 1.) beliefs 2.) clarity of purpose, and 3.) law of attraction. Understanding your beliefs allows you to understand how you are interpreting the world and how to identify the hidden gremlins and saboteurs that are keeping you from accomplishing your life goals. By positively directing your goals, desires ,vibration, you will feel a greater sense of purpose in your life.
Lets begin and let's get the conversation started!
Reviews
6 reviews (5.0)
Testimonial from Brenda, Sao Paolo, Brazil I found Gloria very easy to open to, since we met in a Yoga Class she was a great listener and had the impression she was totally invested in helping me throughout. She asked all the right questions to get to the main issues that needed to be addressed. She become more than a life coach, she become one of my best friend. Some of the methods she used I continue to use after the sessions – particularly the positive thoughts.

Brenda, Sao Paolo, Brazil
Testimonial from Dr. Christin, Berlin Germany "She is like a guardian angel for me…" Gloria Bartel was my LOA coach for several months and I really look forward to every session I have with her. I admire her wisdom, her great knowledge, her sense of humor, her patience, her emotional awareness and her care. She always brings things to the essential point, manages with ease to change my way of thinking and regarding things and developing a different and much more helpful way of managing my life. She has a unique way of making me feel great and making me laugh as well as letting me find out myself, why things did not work so far. She is like a guardian angel for me and I can call her for (short just in time) 10 minute sessions to get her suggestions even when I don't have an appointment. She has this wonderful sixth (seventh) sense to feel, when I need her help and has this great ability to keep me " On the path" without putting pressure on me. I wish her a huge number of people who have the opportunity to be guided by her and I am extremely thankful for everything I received and will receive from her.

Dr. Christin, Berlin, Germany
Testimonial from Karin, Zurich, Switzerland "After every session I felt fresh, alive and raring to go…" My 4 months of fun and self-enlightenment with Gloria Bartel – LOA Coach When a girlfriend asked me if I had heard of Law of Attraction I said yes as I thought she meant NLP. She asked me if I was interested in talking to Gloria about working together with me on – myself. Why not I said and then thought I would listen to what she said and then politely turn her down, after all my world was good. Once I had a chat with Gloria it all sounded to much fun to pass up, and I thought I owned myself a small reward for putting up with all the challenges in life I was just experiencing, even though life was good – after all don't' we all have challenges I thought. Gloria has an infectious, fun and loving manor on the telephone and we soon got to be good friends. As I said we had fun during our sessions and there was nothing difficult about them except maybe being brutally honest not only with someone I had never met but mainly with myself. I opened up to Gloria things about myself I have never even shared with my family or friends. There was no judgment from Gloria and I guess the difficult part for me was to clearly see my self revealed truths about my life and me and how I acted and thought. One thing that I immediately gained was the knowledge that I was not a hyper nervous nut case, but that there were some reoccurring issues that I have had to deal with to lesson the anxiety and stress on myself to enable me to feel more at peace, calm and relaxed. After every session I felt fresh, alive and raring to go on with the tasks she had set me, nothing to hard but never the less something that I had to do daily in order to break away from my old thought patterns. This feeling lasted almost up to the next session however, sometimes just before the next session I would become down and go back to my old ways. I really should have called Gloria or emailed her during these bleaker times as she offered me: this is part of her program, but I preferred to wallow in my moods. I would strongly suggest if you do her course, then take her up on this offer and call her and pester her any chance you get if you are feeling challenged. We used a lot of visualization techniques and short videos, which helped me become a more positive and loving person. Now I don't sweat about what I don't know is a given and just try and live in the now. I am sleeping better and having less anxiety about a future I am not sure about. I love to be out in Nature and appreciate it even more now than before and don't even care if the weather is lousy. It was good to start using my stagnant mind again for positive and fun things instead of worrying so much. Thanks a million for your help Gloria.

Karin, Zurich, Switzerland
Testimonial from Astrid, Düsseldorf Germany "The key was my own behavior and my own thoughts!" Since several years I'm on my way to discover my blockages, uncover patterns of behavior and to change this! Everything/everybody I came in contact with was in coincidence with me, and even so it was when I got a recommendation of a friend from Berlin – she put Gloria and her work to my heart. In my opinion all topics you get or collect in life can be regarded as an onion, the layers must be borne by you again. By the two-week phone calls with Gloria she gave me gradually more and more a positive outlook on life, on everything that surrounds me, and I could clearly see and transfer more and more of all into my own life. At certain points I always stumbled into the same 'traps', did not understand why – now I know that it had to do with my own attitude! The key was my own behavior and my own thoughts! Just what I felt – it came back like a mirror! During the coaching months I have become more confident and more positive, I've ever been a happy person, but today I am more aware of it! And I feel how this all comes back to me and I'm living in a big positive bubble. Gloria creates by her very positive attitude to life and conversation new patterns, she awakes forces to build aware of safety and helps people live a happier life. EVERYONE who wants to change his life positively, has hereby a possibility – A GREAT CHANCE! Thank you Gloria, for all, you made a big different in my life ;))

Astrid, Düsseldorf Germany
Testimonial from Dr. Carl Ivey, PhD, MD Victoria, Canada "This is powerful stuff and I can not thank Gloria enough…" Gloria Bartel has been a blessing in my life since first meeting her over one year ago. Since my move to Victoria,B.C. 4 months ago, Gloria has been in frequent contact with me. She has been incredibly supportive and reassuring while I was having financial challenges. She has the ability to engender trust and confidence and has repeatedly reminded me of the inner power which I have,and have always had, to change my outlook on things and to change the reality which I experience. I am in the process of doing the "virtual" $10,000 per day Money Game and this has been a remarkable experience. I am infinitely more confident spending $10,000 a day(on myself) than I was just 3 weeks ago when I first started playing the game. Gloria has reinforced in my mind that it is the feeling which I have while spending the "virtual" money which will inevitably lead to having the same feeling when the "real" money begins to show up. This is powerful stuff and I can not thank Gloria enough for her advice and support.

Dr. Carl Ivey, MD
Testimonial from Maria Lenis – Athens, Greece "Immediately with our first session I felt relief…" The summer of 2012 was a very stressful one for me. I neglected myself completely while trying to help everyone in my family and friends. I felt trapped as if in quicksand and that I would drown at any moment. I take a medication for my heart palpitations but what I went through this summer caused my health to deteriorate and increased my heart episodes so that even the medication I as taking was not working any more. When Gloria came to visit me, it was like a life saver that came in the right moment to give me something to hold so I can get out of the quick sand. She asked me if I would allow her to help me with her coaching experience and techniques…well I told her that she was God sent to save me and she came at the right time for me. Immediately with our first session I felt relief and I recognized the root of my problems. The questions that she asked were so powerful, like digging down deep into my soul. I started to slowly but steadily come out of the drowning state, and started to think of ways to clean my life from all these emotional, physical beliefs and attachments that I had allowed into my life. Gloria worked with me daily to help me clean up the mess that the quick sand had caused me by using her knowledge of coaching and the compassion and patience that she has. It did not take that much time to be transformed and to start my new life of having clarity about myself and how to treat and take care of me. I am very thankful and grateful to Gloria for her very successful coaching that saved my life. Today I am feeling very peaceful, joyful and only doing the things that bring me joy and my heart episodes have slowed down a lot and if I have them, the duration is very short because the medication is working. It is a transformation that has happened to me that I never thought could happened at my age. Gloria's life coaching techniques can save lives, bring clarity of who we are and can help us have a life that we are meant to live. I would suggest Gloria's life coaching to everyone. When you meet her you will know what I mean. Thank you Gloria!!

Maria, Athens, Greece
The Smart Way To Find A Coach

1 Describe Your Goals

2 Get Matched

3 Free Consultations
Find My Ideal Coach Now