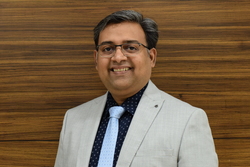 Gopal Iyer

Ahmadabad, Gujarat
Career Coach, Executive Coach, Life Coach
MBA, Certified Hogan Assessor, NLP Certified Practitioner, Certified Organization Development Coach, Stanford Design Thinking Certification
"I feel stuck, don't know what to do", Is this You? then you may be going through a 'mid-life crisis.' Guess what, you are just a conversation away to become the person who you always wanted to become
About Me
Thomas Jefferson once said, If you want something you've never had, you must be willing to do something you've never done.
We live in a digitally hyperconnected yet emotionally disconnected world. Unfortunately, with COVID-19, the lines between Work and Life have blurred. Many of us spend the majority of our doing work, and we also have to take care of our families. In all probability, one email can ruin our workout regimes or overshadow our dinner-time conversations.
Our distractions deprive us of our happiness, goals, and the person we want to become. Result? "Oh, I am too busy! Oh, I am so swamped that I don't have time for my family, even myself. I really wanted that job; I really wanted that vacation, but I just couldn't."
We are always One Decision Away! to become who we are as a person. So don't take the pressure to find solutions to everything.
Sometimes, all you need is to have that one conversation!
Together we can discover what is holding you back and work through the process of Discovering the New You!
I am a Certified Career Transitions Coach with more than 18 years of experience in Human Resources & Business Partnership, including
Leadership Development and Executive Coaching.
I have worked with leading consulting firms, and currently, I am On a mission to equip others to practice 'Blue-Sky Thinking' via coaching.
Reviews
4 reviews (5.0)
Gopal Iyer is a prolific coach and has a tremendous wealth of experience to help one navigate the crisis in a very easy manner. He would patiently and intuitively listen to you and understand the actual crisis in a very beautiful manner. His depth of knowledge and the preparation he makes before the coaching sessions makes the entire experience a metaphysical one. He identifies the problem so well and helps you overcome them and build yourself to become a better professional. I have immensely benefitted from his coaching sessions and I continue to utilize his services to help me elevate to a different level of gameplay. Without his support, i surely would not have been able to navigate my crisis and reach my true potential. Godspeed to you Gopal for not only being my best coach and critic but also my critical advisor to build a beautiful future.

Prashant Iyer
At times, challenging and difficult situations throw us off guard, especially when we are unprepared and do not see it coming; such cases get even more challenging to deal with when deep, underlying, and unconscious driving forces compel us to think and react in a certain irrational way. But, of course, we all want to make rational decisions and strive to live a balanced life, dont we? I have faced situations where my judgements, assumptions, and past experiences blocked my analysis skills, making it difficult for me to reason. Thats where Gopals expertise came to play; he guided me to look into my past, dive into my thoughts, rationally analyze my situations systematically. Then, finally, I could make thoughtful decisions that helped me reach my goal, find peace within, accept facts and live with it strongly.

Anaya Wagle
I met Gopal at a time when I was taking stock of my professional and personal journey and trying to focus on improving my work-life quality. A few sessions down the line, he brought tremendous clarity to my understanding of where I was and what I needed to do to reach where I wanted to be. He has been a friend, confidant and coach. His uncanny ability to navigate through my situation to reveal the crux of the matter has helped me resolve several problem areas. Additionally, he has provided me with a road-map to help me re-direct my efforts and energies. I am grateful to him for his sincere support during the sessions and the hand-holding he has offered so I would not fall off track on my growth-journey. Do sign up for his sessions to get unstuck and get that much-needed push to smash your goals!

Sharmila Bhowmick
Gopal is a great coach! I contacted him when I was at a juncture in my life where I was confused about what career option to opt for. During the session, Gopal listened attentively to my inputs, assessed them, and suggested an approach with supportive reasons for choosing a certain career option! I am impressed by his patience, knowledge, and interest to support someone and help them reach their dream goal or dream job! I highly recommend him to anyone who is looking for a great coach!

Shruti Manish