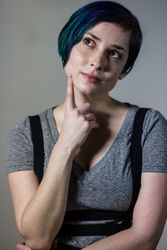 Hana Michels

Los Angeles, California
Life Coach, Relationship Coach, ADD ADHD Coach
Training in The Tools (Phil Stutz and Barry Michels)
I specialize in treating creatives dealing with stress or creative block, helping people with adhd organize their lives, couples and anxiety/self image management.
About Me
Hey! I'm Hana Michels, certified life coach (w/the Wainwright Institute) and creative consultant. I also received additional training in The Tools methodology. As a coach, I like to personalize treatment as much as possible, and I take client feedback very seriously. I also like to use humor to create a comfortable safe environment. I can help you:
- Meet immediate as well as long term life goals
- Streamline and stay on task with creative projects
- Communicate better and problem solve with romantic partners
- Collaborate better and problem solve with creative partners
- Hold yourself accountable when it comes to developing or eliminating habits
- Correct and gain perspective on negative, persistent thoughts about yourself over time
-and probably more, (please message me and I will be 100% honest about whether I think I can help!)
I have been featured on The Tools website, in The Cut and others. I take great pride in my earnestness and desire to help others, and if it turns out we are not the right fit I have a large referral network of coaches and therapists.
Reviews
2 reviews (5.0)
Hana came through like a wrecking ball and helped me smash my writers block! I didnt have the answers, myself, but I modified & did the things she recommended. THANK YOU, HANA!!! 5/5, would recommend in a heartbeat

Marina Reimann
In the year since I started working with Hana Michels as a coach, I've completed the first draft of an original novel, completed another short story, and gained immunity to COVID 19. I'm grateful to Hana for giving me one of boosts I needed, and highly recommend her to any other creator who feels they could use the same.

William Leisner