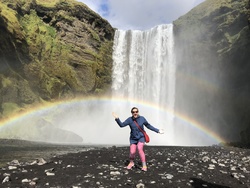 Hannah Yang

Chicago, Illinois
Life Coach, Entrepreneurship Coach, Business Coach
PsyD
Individuals who have done a lot of psychotherapy and are ready to create more opportunities for focusing on abundance and living their best life! And, business coaching for therapists and healers : ).
About Me
As a clinical psychologist by training, I've created a successful group psychotherapy practice and in the process have learned that I have many skills beyond the world of psychotherapy. I love empowering others to live in the context of abundance - and would love to coach you on manifesting abundance in your life or business. The ways I can think to do this are limitless- and inspired by my years as a psychotherapist, entrepreneur, and artist of my own life and business.
I love to incorporate spirituality, law of attraction, and abundance practices into my own life and am ready to share with you what has worked well for me! I am always reading, thinking, meditating, and learning from others about how to live the best life possible.
I'm also a Feng Shui consultant and can do a lot to help you by coaching you on how to adjust your external environment! I have an intuitive sense of design and space, combined with formal training in feng shui and space clearing. I love to bring joy and transformation to others through their experience of spaces. I've immensely enjoyed the curation of beautiful, inspiring, and transformational healing spaces in my psychotherapy practice. Tapping into my formal training in psychology alongside of my intuitive creative sense, I consider how our environments influence how we think, feel, and function.
Reviews
Hannah doesn't have any reviews yet.