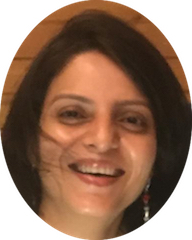 Harmeet Anand Mumbai, Maharashtra
Leadership Coach, Life Coach, Executive Coach
MS, MBA, Masters in Psychology, Advanced Corporate Coach Education from Coach University, Member of ICF
Do you know someone who is not living up to their full potential? Do you want to play at a higher level than you currently are? Does the complexity of life and work make you feel stuck?
About Me
Before you read, here is a "coaching alert" message :
Coaching is not for people who are not determined to change their habits. Coaching is not for leaders who are not courageous enough to ask for feedback. Coaching is not for managers who are not disciplined to follow through on their commitments.
If you are still reading this, then congratulations for being an edge-walker ready to take a plunge and achieve your dreams.
My clients come from various walks of life. From managers at various levels to CEOs to entrepreneurs, to people who are transitioning - from full time working to being at home parent, from taking a long break from work to moving back to work or going to college.
The common theme amongst these diverse folks is the desire to grow into a bigger vision of themselves.
This testimonial gives you a flavor of my coaching style...
"Harmeet's style made me feel I was in good hands…secure, assertive, professional and when needed very emphatic…she could hear when to push and when not…we laughed and cried…and would always feel good and re-energized at the end of our sessions. She allowed me to be in the moment but also shifted my perspective when needed. She asked tough questions that I am still asking myself from time to time. I was grateful to Harmeet for her ability to be with me in the moment and then move me in a better and more positive space. I was able to transition to my old life (back to work after two years of leave) with confidence and a positive mindset. I smoothly integrated my work. Thank you".
I am an MBA, Masters in Psychology and have been coaching leaders, parents and professionals for more than 6 years. Prior to coaching I held leadership roles in management, marketing, brand building in corporate India with some of the worldwide known companies such as eBay, DDB Needham, GSK.
If you are ready to live upto your full potential, contact me - and get a taste of what coaching would look like. Coaching engagements may last from 3-12mths.
Reviews
Harmeet has 7 reviews.
These past few months I've had the ABSOLUTE PLEASURE of being coached by Harmeet. Not only is She caring, supportive and challenging, but She shows experience beyond Her years.

Harmeet has greatly helped me get past some serious roadblocks that have been holding me back. I am deeply grateful for that, and cannot recommend her highly enough. Thank you Harmeet!

Professional Speaker, Australia
"I hired Harmeet to assist me in getting clear on my vision. Harmeet's to the point coaching style kept me on track and I was quickly able to create a vision and to work through the blocks which we keeping me from having clarity. Thanks Harmeet"

H.R., Sr Business Analyst, Melbourne
"I met Harmeet informally first and quickly realized she would be a great career coach for me. I was in the mind-set of changing my career after 11 years of being a successful International Business owner. Along with appropriate tools, she was able to help me understand where I was professionally and where I wanted to be next. Her interpretations of the results and her ability to help me answer my own questions and to prioritize them, was excellent. She is inspires trust in her and is an objective listener par excellence. Top Qualities : Great Results, Personable, High Integrity"

R. G., Entrepreneur and Educator, Singapore
"At the age of 60, I decided to fulfill the true purpose of my life before it is over. Last year, I met Harmeet in my Toastmasters Club and was attracted by her passion in coaching and helping people...

Harmeet was able to walk with me through my journey of 3rd life by using her knowledge of coaching methods and tools; and to help me get clarity as well as polish myself from a rough stone to a precious gem or gold nugget which is still evolving. Her determination and flexibility in coaching has inspired me to work closely with her to make a difference in my own life. Hence, I highly recommend Hameet to whoever needs help in life and career development at all ages. I am sure that they will have a wonderful journey and enlightening experience through out the process".

S. L., Program Manager, Singapore
"Harmeet is an excellent coach who strives to provide a safe and healthy space for her coachees. Her perceptiveness, intelligence and confidence are her biggest strengths as a coach and a human being.

As a coach, she constantly strives to provide her clients the tools, attain their goals by partnering with them in the most effective way possible. It has been a pleasure working with Harmeet and I wish her the very best in all her endeavors." Top qualities: Great Results, High Integrity, Creative

H. K., HRD Support, India
Harmeet was my coach for more than 4 months and in this short time helped me to change my perspectives on my communications position and role in a non-profit organization. An encouraging person who is objective and fair in her mentorship, Harmeet is a pleasant and open-minded coach who drew out 'mini-epiphanies' from me, while discussing issues. As a new supervisor it was also very helpful to be able to bounce ideas and gain insight from someone with experience in a similar role. Thank you Harmeet for walking me through this period, your advice was invaluable.

Rebecca, Communications Specialist, Singapore
" My wish for this Christmas - To have more 'Harmeets' to coach key players from our service sector. Harmeet helped me face issues which subconsciously I was not prepared to face. Based on my strengths, she then develop personalized methodologies to work on these issues. These methodologies also enabled me to be better prepare for similarly challenging situations in future. Thus resulting in my professional and personal growth."

Executive Director, Leading Organization in the field of Pyschological care for older people, Singapore