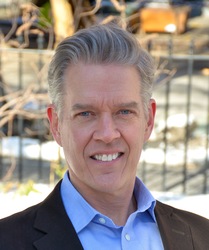 Harry Prichett

New York, New York
Career Coach, Entrepreneurship Coach, Life Coach
Career Transition Coaching
I work with successful professionals who seek clarity and direction as they work to re-energize, reboot, or reinvent their careers.
About Me
I work with professionals who are in various stages of Career Transition.
Together, we work on reenergizing, rebooting, or reinventing their careers, gaining clarity on where they stand, identify where they want to be, and design an action plan to take them there.
I work with a wide-range of professionals—surgeons, television executives, real estate brokers, entrepreneurs—who are looking for new opportunities, and are open to exploring their passions and potential for personal transition. I've brought my broad experience as an actor, writer, and improviser to my work as a certified professional coach.
Based on extensive research, professional training, and the experience of my own career transition, I have developed a 4-Stage Process to help you Get Unstuck & On Track.
Let's work together to create a new and meaningful path forward.
Reviews
8 reviews (5.0)
Harry is an extraordinary coach and guide. I came to work with Harry because I had lost my focus, my passion and my confidence. He helped me navigate challenges I saw before me, and opened my eyes to opportunity where before I saw none. Through his compassion, understanding and guidance I came away with a renewed confidence, and a new found optimism. I highly recommend working with Harry for anyone who needs to navigate change, challenges and obstacles.

Jennifer Quainton, Programming, Development, Strategy & Brand Management
I worked with Harry as I was leaving a medical practice that I had co-founded 13 years prior and grown steadily over the years. When I left my practice, I had no idea what I was going to do professionally, but I knew I needed to better define my motivations and aspirations and the rest would fall into place. Harry was of tremendous help doing so. I am refreshed and rejuvenated at work in a way that I had not been in a long time. If you are looking for your next job, I am not sure Harry is the person to work with. However, if you are wanting to dig deep and understand what is important to you and then find the career that will best suit your values, then Harry will help you do that.

Dr. Michael Tantillo, Founder, Clareo Centers for Aesthetic Surgery
Harry has been a phenomenal coach for me. He has a way of getting you to take the reigns while offering helpful tools and insightful questions that get you to see things in a new light. I always left our calls feeling invigorated and encouraged by him. He is so positive, figures you out quickly, and then does everything in his power to support you and the steps that you are trying to take for yourself. What a positive experience. I would recommend Harry to anyone looking for support through a career transition (which is what led me to him).

Jen Chau Font án, Management, Leadership, Antiracist & Somatic Centered Coaching
I started my work with Harry at a time where I was pretty badly broken and way overdue to make what I thought would only be very significant changes in my work life. And of course, when you start to look at that up-close, all the other aspects of your life jump into the discussion too. Harry met me where I was in that thick fog of mine and guided me back out with patience, compassion, wisdom, knowledge, and humor. He made sure I recognized that I didn't need to throw everything away and helped me to see what to keep, what I didn't want at all and what I really wanted to focus on and grow. Not only has the course of my career changed in satisfying ways, but I have also made more room for the many other interests and creative pursuits that are truly at my core. And not surprisingly, everything else in my life is making the same kind of positive shifts as I break away from old patterns and behaviors that no longer serve me well. What's even better is that these are tools that have "stuck" as I see and hear myself using them every day to better my life or just stay on track. My wife swears she is going to give Harry the biggest hug if she ever meets him in thanks for giving her this "new" husband and for being a key player on the "Dream Team" of my personal rebuilding. I still have much work to do to reach my goals in full, but there is no better person out there to be your guide on this kind of journey than Harry. Thanks Coach!

David Sculley, Consultant, Facilitator, Coach & Advisor
I am an artist and designer who recently began reinventing my work and my career. Harry helped me cut through all the fog and noise and see more clearly what was most important to me in my process. He helped me identify my own core values, which have become a tool for me when ever I am a bit lost. He helped me organize my priorities and see my own progress towards achieving my goals, keeping me in the positive, creative energy and out of the "I'll never be able to do this" rut. His sense of humor, his straight forward easy manner, and his ability to hone in on the obstacles make him great at what he does. He knows how to listen and has a great way of communicating back what he hears. Through working with Harry I have become more aware of my own blocks and strengths, discovered some useful tools and found a new confidence in my creative and work process.

Pamela, Entrepreneur, New York City
I started working with Harry, over a year ago. I wasn't sure what to expect, what I might learn or how I would use that information. What I did know was that I needed outside support and direction to take my career to the next level. Harry helped me to figure out what the 'next level' entailed, how to identify key opportunities along the way and what it takes to achieve work life balance without feeling the guilt. Working with Harry has not only bettered my professional life, but my personal day to day being. I will always be grateful to Harry for his insight to creating a more successful career path and productive lifestyle.

Karen, Media Production Executive, Atlanta, GA
Harry listens with precision, and asks questions that turn on the lights. His skill in helping me see situations clearly and identifying right next actions is uncanny. I've interacted with quite a few coaches in my career, and Harry is among the most capable and powerful. He makes the difficult seem easy - helping me find the places where I need to focus, pointing out opportunities where I previously found only difficulties. His ability to help me move to greater clarity and resolve is the hallmark of the most powerful coaching. His methodology, patience and encouragement are transformative.

Rob, Senior Vice President, Creative Services, New York City
As a new business owner, I was experiencing major growing pains with my role and relationships at work. Harry was instrumental in helping me identify my challenges and developing the larger perspective I needed to see this difficult moment in a new light. He also introduced me to valuable tools I now rely on to face each day. His patience, warmth and humor made the process extremely positive. I cannot recommend him enough!

Cameron, Creative Director, New York City