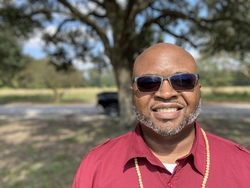 Harry Turner

Baton Rouge, Louisiana
Spirituality Coach, Life Coach
BA, MA, Certified Clinical Trauma Professional, Cognitive Behavioral Group Therapist, Certified Integrative Medicine Provider, Heart-Centered Hypnotherapist
I coach spiritual seekers who typically find themselves moving from one self-help book to the next without any results or increase in the spiritual practice. What you may be missing is a Guide. I AM.
About Me
I am called the Nocturnal Therapist because I am a Guide by design and a Psychotherapist by trade.
I was called a "wise owl" by my parents growing up. It was abundantly clear to me as a teenager that I was called to assist others in developing the audacity to live unapologetically authentic.
I've always known I'd face my nightmares one day. But there is no happy ending once you do. There is another, larger Shadow lurking in the dark that screams for liberation.
For that reason, Shadow Work is one of the L.I.T. Factors I now teach. It's a core LIT ❤️‍Factor because it is the practice of bringing the light of our awareness to the darkest parts of our unaware, or subconscious, parts.
"Until the Unconscious becomes Conscious, it will direct your life and you will call it fate." - C. Jung
My art as a Mental Alchemist is to be able to combine the right gumbo of spiritual tools in order to move through life with the least amount of resistance.
I am the Creator of the L.I.T. Effect. Using my natural gifts as an intuitive Guide and my accumulated life knowledge, I am able to help anyone go from being "stuck" to in "flow".
The 5 Core Pillars of the L.I.T. Effect are: Acceptance, Clarity, Re-Conditioning, Envisioning, & Choosing. Each of these pillars represents LIT Factors. A LIT Factor is a spiritual tool you use to return to flow.
The LIT Effect is the practice of Living In Truth which is an Unapologetically Authentic life.
I am but a droplet in a tidal wave of new energy growing throughout the world. This new culture will be one of unity, acceptance, compassion, autonomy, authenticity, forgiveness, remembering, and returning to love.
"It is not until I let go of who I am, that I become who I might be." - Lao Tzu
Experience:
1) Heart-Centered Hypnotherapist
2) Certified Spiritual Life Coach
3) Certified Integrative Mental Health Professional
4) Certified Clinical Trauma Professional
5) Certified Life Story Life Coach
6) Certified Life Purpose Life Coach
Reviews
Harry doesn't have any reviews yet.