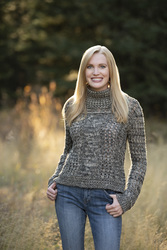 Heidi Vance

Big Sky, Montana
Career Coach, Entrepreneurship Coach, Health and Fitness Coach
ACC (Associate Certified Coach), CPCC (Certified Professional Co-Active Coach)
I work with professionals/entrepreneurs who feel stagnant and seek clarity, motivation, and fulfillment in their career, as well as clients who are looking to take action to improve their health.
About Me
Hello, I'm Heidi! I am a former Silicon Valley marketing and business development professional turned professional and personal development coach.
If you are feeling unmotivated, stagnant, uninspired, or are lacking clarity, confidence, and a plan to move forward, you've come to the right place. Be it focusing on your career, starting your new business, or improving your health, I will partner with you to uncover your strengths, values, and vision, and together we will develop clear action steps to get you moving towards achieving your goals. I am confident that by working together you will discover new ideas, new choices, new directions, and you will be able to make conscious decisions to live the life that you so desperately desire!
Clients I work with:
- Career Coaching: Early to mid-career professionals who are looking to level up their career including developing leadership skills, confidence with executives, seeking a promotion, or finding a new role/career.
- Entrepreneur/Small Business Coaching: New business owners who are feeling lost, overwhelmed, unmotivated, fearful, or are lacking clarity on how to move their business forward.
- Health/Wellness Coaching: Individuals who want to prioritize or improve their health through lifestyle/nutrition changes, but perhaps don't know where to begin, feel overwhelmed by information, or are struggling to find the motivation to keep new habits going.
About Me:
I was trained through the Co-Active Training Institute's professional coaching curriculum and am certified through ICF as well as CTI's rigorous Certification program, widely recognized as the gold standard in coach training. I am currently enrolled in a health coach certification program at the Functional Medicine Coaching Academy with a focus on nutrition and positive psychology.
In 2018, I moved from San Francisco to the beautiful mountains of Montana and love to hike, mountain bike, camp, ski, and play with my two labs.
Reviews
2 reviews (1 verified) (5.0)
Heidi is a supportive and thoughtful coach. She asks questions and gives assignments that helped me get clearer on my values and next steps.

Andrea
Heidi has been instrumental in helping me think through my business issues as well as limiting beliefs. She does real coaching allowing me to find my answers from within and this has been refreshing and empowering at the same time. I highly recommend her as a coach in any areas you need support in. Her coaching skills is exactly what you need to thrive.

Nausheen