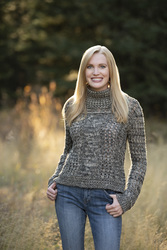 Heidi Vance

Big Sky, Montana
Career Coach, Entrepreneurship Coach, Health and Fitness Coach
BA, ACC (Associate Certified Coach), CPCC (Certified Professional Co-Active Coach), FMCHC (Functional Medicine Certified Health Coach)
I work with professionals/entrepreneurs who feel stagnant and seek clarity, motivation, and fulfillment in their career, as well as clients who are looking to take action to improve their health.
About Me
Hello, I'm Heidi! I am passionate about supporting my clients in making sustainable changes that lead to living more fulfilled and healthier lives. In my practice, I partner with my clients to gain clarity, identify goals, discover personal strengths and values, and articulate clear, manageable steps to move forward into action.
I always coach the whole person in all areas of their life, but generally, my clients initially come seeking support in areas of career growth, small business development, and achieving personal health & wellness goals. Together we uncover your strengths, values, and vision, and we develop clear action steps to get you moving towards achieving your goals. As your coach, I am also your accountability partner and your advocate. I am confident that by working together you will discover new ideas, develop more awareness, explore new perspectives, and you will be able to take conscious action to live the life that you are seeking.
About Me:
I completed my foundational training and certification as a Certified Professional Co-Active Coach (CPCC) at the Co-Active Training Institute, globally viewed as the gold standard in coaching education. I am also a Functional Medicine Certified Health Coach (FMCHC) through the Functional Medicine Coaching Academy, an approved NBHWC program and a partner of IFM. Additionally, I am an Associate Certified Coach (ACC) through the International Coaches Federation, the leading global organization for setting standards & best practices for coaches and the coaching industry.
I spent 10+ years working in marketing and business development for startup and corporate tech companies in the Bay Area. In 2018, I moved from San Francisco to the beautiful mountains of Montana, began training to be a coach, and in 2020 transitioned to this work full time. I love to hike, mountain bike, camp, ski, and spend time outdoors with my two labs.
I love working with my clients, and I would love to meet you!
Reviews
2 reviews (1 verified) (5.0)
Heidi is a supportive and thoughtful coach. She asks questions and gives assignments that helped me get clearer on my values and next steps.

Andrea
Heidi has been instrumental in helping me think through my business issues as well as limiting beliefs. She does real coaching allowing me to find my answers from within and this has been refreshing and empowering at the same time. I highly recommend her as a coach in any areas you need support in. Her coaching skills is exactly what you need to thrive.

Nausheen