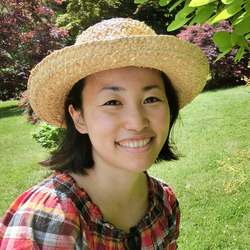 Hitomi Taguchi

San Diego, California
Life Coach, Leadership Coach, Career Coach
PhD, Certified Professional Coactive Coach
I coach to empower and accelerate my clients' execution while growing their capacity and maximizing their potential. I serve as your thinking partner to support and help you achieve your goals.
About Me
Are you...
- Ready to start creating a more fulfilling life/career for yourself?
- Open and ready to commit to a process of exploration, growth, and execution?
- Seeking structure, inspiration, and unwavering support?
Coaching helps bring your untapped abilities forth and catalyze the process of changing your life trajectories to ones that make you feel confident and fulfilled.
I help my clients:
(1) Clarify the vision – both in private and at work.
(2) Assess the current situation and develop personalized tools and techniques that support my clients in achieving their goals.
(3) Act as an accountability partner to motivate my clients, monitor their progress, and offer non-judgmental feedback, suggestions, and encouragement.
One of the key takeaways from our coaching process is the list of Personal Core Values. Identifying your own set of core values and learning how to use them can make you more confident in the choices you make, set stronger boundaries, and improve your relationship skills. Other tools we develop together include dealing with your critical voices, managing your resources, and identifying different perspectives that will help you move forward.
As a certified coach, I am committed to supporting your journey through a professional, trusting relationship, and assisting you in gaining fresh clarity and insights into your current situation. You can count on me, to be honest and straightforward and to be your advocate and partner in creating your life the way you want it to be.
• I offer my coaching in English and Japanese.
• My Ph.D. is in Chemical Engineering.
• I am experienced in coaching people who consider themselves introverts, who suffer from Imposter Syndromes, and/or who are strongly curious about diverse topics (Renaissance Soul!) and struggle to narrow down their choices.
Reviews
9 reviews (5.0)
I had an amazing 45-minute coaching session with Hitomi at ADT23, a big international conference for Talent & Development professionals, where Hitomi participated as a coach for conference attendees. Hitomi has the ability to connect instantly. She asked me profound questions that helped me consider directions I hadn't previously explored, which was extremely helpful. In just 45 minutes, we accomplished a lot: I generated a couple of ideas on the coaching topic and shared and researched some of my internal barriers. Thank you, Hitomi! I would definitely recommend you to anyone seeking a coaching session that delivers immediate value.

Valeriya Volobuyeva
Thanks to coaching with Hitomi, I was able to eliminate my biggest concern: the feeling that I wasn't being true to myself at work. The major change I experienced was becoming able to compare the current situation with my ideal situation and strategize what needs to be done. I plan to continue using this approach in the future. I was surprised every time we were able to vividly describe something I hadn't put into words before. Hitomi was a great coach. She helped me untangle my challenges as an authentic supporter without imposing her own ideas on me.

Tomoko Kazama
Hitomi is an amazing coach and I would not hesitate to work with her again. Her ability to hear what matters through the noise on my mind was instrumental in getting to the bottom of my challenges and turning them into opportunities. Her joyful personality and warmth are a great complement to her strong ability to generate powerful, transformational insights.

Alex Schecter
Hitomi and I met during a Hera Hub hosted session about imposter syndrome. I was so moved by Hitomi's participation during the session that I began working with her regarding my own imposter syndrome, resulting from years' long work burnout. During our time together, Hitomi has brought me back to a quote I learned very young and still rings true today - 'One cannot step in the same river twice.' -Heraclitus. Everything, including the river, is impermanent. Coming back from the past or present to the each moment is liberating. It is in that moment that positive change can occur, if we are open to it. In times of stress and anxiety, I am learning to train my brain to spot negativity, use mindfulness techniques to calmly return to the present moment, and analyze the root cause of the disturbance to determine healthy next steps. We are not bound to continue chasing a goal that has become literally impossible. Instead, can respect ourselves enough to change the goal as circumstances warrant. Lying under the starry night sky and listening for to the bullfrogs, crickets and owls has taken on a whole new depth of meaning. I am eternally grateful for the opportunity to work with Hitomi. She demonstrated her belief in me when I was unable to do so for myself. Thank you for your loving-kindness, Hitomi.

Claudine Moore
Throughout my coaching activities, I learned how to self-reflect on various situations and feelings, such as thinking about my vision, what I want to be in the future, and how I should react when negative feelings arise. All of these activities helped me become more self-aware. I really enjoyed every session with Hitomi; I love her energy and the positive aura surrounding her. She's a good listener and is always ready to hear me out, which made me feel comfortable sharing my feelings during our sessions. I appreciate the way Hitomi led our communication, providing insights that made me think again. I can tell she chooses her words carefully and with consideration and respect for me. I feel very thankful. It was a good experience to spend time solely thinking about myself and getting to know myself better.

Inhwa Ku
Although my time working together with Hitomi was short, what I feel I walked away with that came out of our sessions, is my reflection on and developing a list of my values. Hitomi really guided me in thinking more deeply about what I valued and how I should bring that to the forefront of my work. This list is invaluable. Being able to name them, rank them, and then be aware of the capacity in which I am honoring each is something I walk away with from our sessions as a true gift. I can take these values and use them to help make decisions and also use them as a foundation to assess the areas where I feel I may need to boost up since life is fluid and situations change. Like life, my values can waver, but I know they are foundational to who I am, and therefore I know I shouldn't stray too far. I really like Hitomi's gentle approach and always checking in to see where I felt like I needed to be supported. It was like I had a teammate, and that felt special. I looked forward to and enjoyed each session from start to finish.

Amy
Our coaching sessions really helped me focus on the issues I face in my career. I was surprised by how intuitive Hitomi can be about problem solving, and her advice was always helpful and not forced - always given as a "yes, no, or counteroffer". I like the way Hitomi has helped me focus on my core values, on how those values can help guide me in my decisions. I will definitely use the tools I have learned.

Eric Johnson
Coaching with Hitomi has helped me clarify my personal core values. I currently use these values in various aspects of my life to make intentional choices. I have also been able to gradually unravel the murky worries I had been holding inside of myself. Through the process of unraveling, improving, and letting things be when it's okay, I have been able to accept myself a little more and feel lighter. I intend to continue practicing facing my internal discomfort with authenticity. I also appreciate how she always ends our sessions with a plan for the next action. The coaching has helped me come up with ways to deal with issues I could never consult with other people about, and I feel that my mind and heart are better aligned, allowing me to live my life in a self-directed and more comfortable way. She is positive, kind and empathetic, that makes me comfortable. I would definitely recommend her as your coach!

M O
I had a wonderful experience learning about myself and my inner power, and how intriguing the journey going inside of ourselves can be. The connection I had with Hitomi and her ability to help me visualize my thoughts exceeded my expectations. I would encourage everyone to take this journey once in their lifetime. I appreciate all of Hitomis encouragement, both on good and bad days, and helping me see things differently in regards to my life.

Pershang Farshi